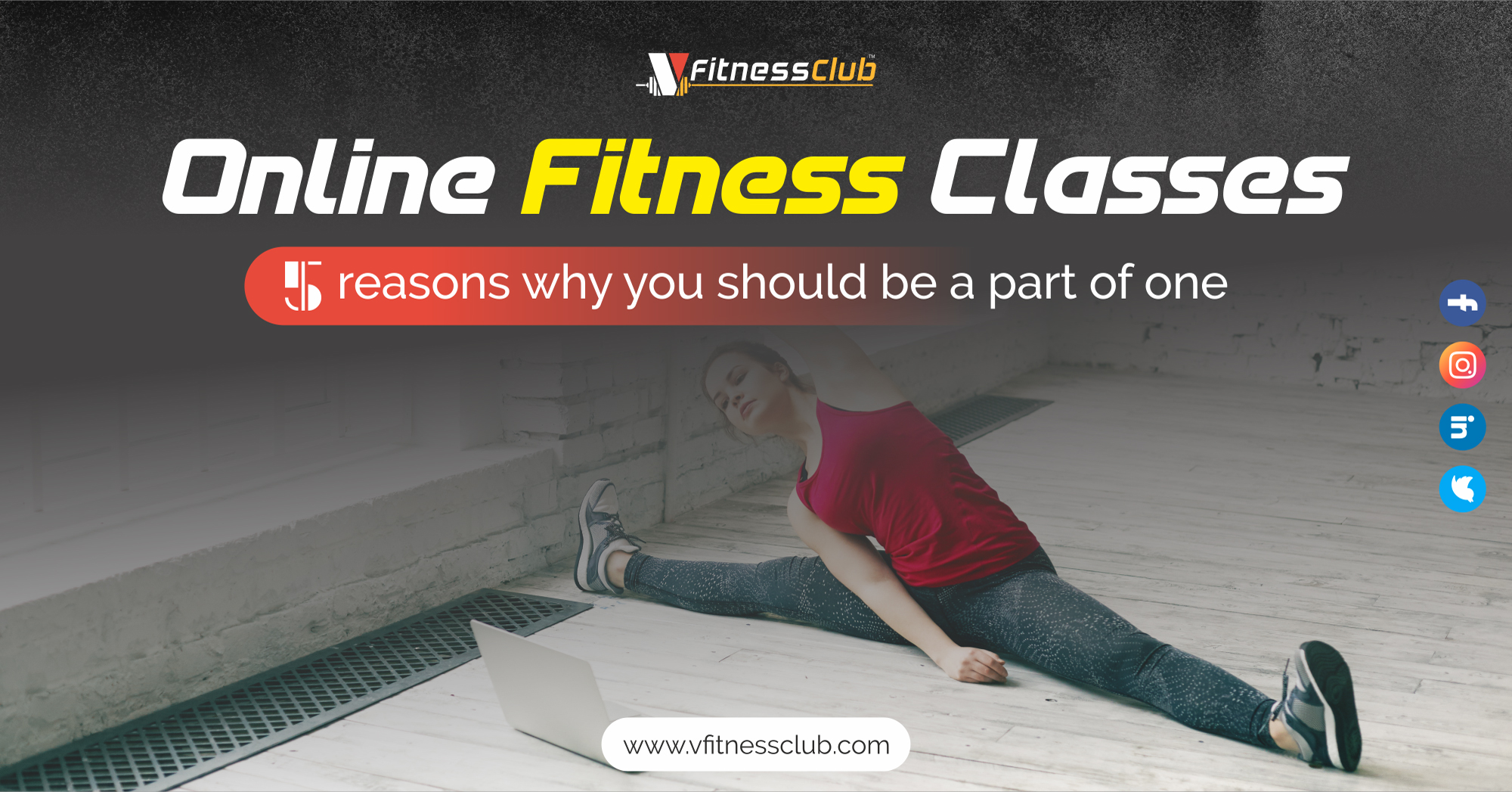 Online Fitness Classes: 5 Reasons Why You Should Be a Part of One
Admin
10-07-2021
With the current scenario across the country, there are still many states that do not recommend opening various businesses like beauty salons and fitness centers. People still cannot go to these businesses and have to make do from their homes. Thankfully, there are still online fitness classes that can help you to stay fit even when you cannot physically go to the gym.
Many people are still skeptical about the reliability of virtual fitness classes and whether they provide the same results or not. The answer is, it depends on you and the fitness trainer. If the trainer is helpful and motivating enough to keep you moving forward, then you can join the fitness classes online and get similar or even better health results.
In this blog, we will be discussing 5 reasons why you should be a part of online fitness classes. Keep reading to find out.
How do online fitness classes work?
Online fitness classes only need a smart device like a computer or a smartphone and active internet connectivity to get you started on your fitness routine. It may feel a little different from working out at the gym however, you will get used to them or even like them more once you start attending them.
There are different types of virtual fitness classes based on how they are conducted:
* Pre-recorded classes
The fitness trainers would record their workout routine with as many instructions as possible so that the gym members can get their form right and avoid any uncomfortable mishaps while exercising.
* Live-streaming classes
In which the fitness trainer streams their fitness routine for the members to follow along in real-time. While the stream is live, members can interact with their trainer using chat messaging.
* Live session
Using live sessions, the fitness trainers can connect with their gym members to work out together. They can also check their form and techniques in real-time to avoid any risk of injury. Members can join in groups to virtually work out in groups.
You can choose the one that you are most comfortable with and continue on your fitness journey even when you cannot physically join the fitness center.
Why should you join online fitness classes?
Staying fit and healthy is the most important thing for every human being. Especially in times like these when being physically and mentally fit is of utmost importance. However, not being able to go to the gym or any other fitness center, many people often end up going through trial and error to find out what suits them and what does not.
That being said, many gyms have also spread their services to the online digital platform thanks to tools like gym management software. With that, gyms and fitness centers can take online live sessions of their members who have enrolled in their gyms or fitness centers.
So, if you were already a part of a gym, inquire whether they offer online classes for fitness. If they do, chances are they will take you up without any extra fees. Or you can look for a gym near you that offers online fitness sessions.
Here are 5 reasons why you should join online fitness classes
#1. You get to work out comfortably
If you are someone who likes to work out in peace, then online fitness live sessions are for you. You can work out all you want within the comfort of your home. Moreover, many online classes are designed in a way that does not require you to use any gym equipment. This means that you would be using your body weight to do resistance training.
Apart from this fitness instructors would recommend exercises that do not need any equipment like Yoga, Zumba, Pilates, etc.
#2. It is affordable
If you are getting a new membership at the gym for online fitness sessions, then most of the time the fee is lesser than what it might have been for in-person classes. So, the online live sessions are more affordable as compared to offline gym sessions.
#3. Join your favorite gym or expert
Online fitness classes do not need you to be present there physically. This means that you can virtually be a part of your favorite gym or fitness center and train with the expert trainers there. All you need is your smartphone or laptop and an active internet connection.
These fitness sessions are online which means they are virtually boundaryless. So, you can join whichever gym you like and train with their trainers without having to leave your place.
#4. Choose your workout
If you are a person who likes to try out new workouts but does not have fitness centers or gyms that offer them, then now is your chance.
With online fitness classes, you can join the fitness programs that resonate with you the best. Whether you prefer Yoga, Dancing, or strength training, you can choose to join an online fitness class with your favored workout style and enjoy getting fit and healthy.
#5. Easier communication
The gym management software offers several communication paths for fitness instructors and members to stay in touch. With features like WhatsApp and SMS integration, fitness instructors and members can communicate with each other regarding the fitness of the members.
It also offers the gym management member's app that helps you to track your progress and receive your diet and workout schedules directly from your trainer. So you know how much you have progressed over time.
FAQs
Are online fitness classes worth it?
If you have the right fitness trainer who is adept at getting workouts done from you, then yes, online fitness classes are totally worth the shot.
Do online workout programs work?
It completely depends on how motivated you are to follow through on your trainer's advice and instructions while working out. If you work out diligently, then there is no reason why online workout programs should not work.
What is the best online fitness program?
Online fitness programs as offline workouts depend on what suits you and what you are comfortable with. If you are a person who enjoys low-intensity workouts, then Yoga or Pilates would work best, or if you like high-intensity workouts, then online fitness programs that offer you HIIT or other resistance training workouts might be best for you.
EndNote
Online fitness classes are a great way to maintain your fitness from the comfort and safety of your home. And here is why you should be a part of one:
#1. You get to work out comfortably
#2. It is affordable
#3. Join your favorite gym or expert
#4. Choose your workout
#5. Easier communication
If you already have a gym membership then ask your gym about online fitness programs. If they use a tool like a gym management software, then chances are they also offer online fitness classes. You can join them and maintain or improve your fitness even if you are unable to go to the gym physically.
Tell us how you maintain your fitness at home, do you attend any online fitness program or wing it as you go? Share your thoughts with us in the comments below and if you like the blog, be sure to share it with your friends on social media.
Share This News On Social Media
Facebook Comments