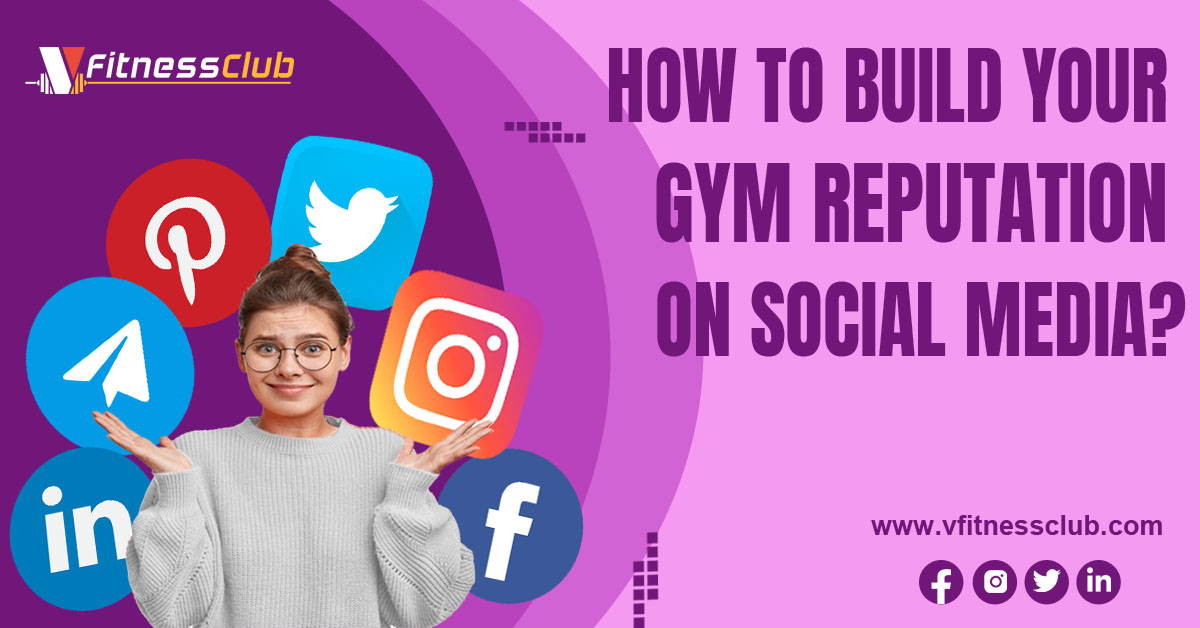 How to Build Your Gym Reputation on Social Media?
Admin
25-03-2021
Your gym or fitness center might be one of the best facilities in your town but your membership count may still not be as high as you desire. The reason is, you need to promote your gym or fitness center to the public and make them aware of its presence.
One of the great ways to do that is with the help of social media. Social media is one of the largest platforms where you can promote your gym and everything related to it. This practice is called social media marketing.
More than 3 billion people use social media and promoting your gym on it means that you will be promoting it to that many people instead of the small local townspeople who may get your flyer or brochure in their daily newspaper.
Moreover, it is cheaper than most of your traditional marketing tactics. In this blog, we will be sharing how you can leverage social media to build and increase your gym or fitness center's reputation.
Research your target audience
For any brand or business, knowing their target audience in and out is the first step to successfully market their product on social media.
So, what does it mean to research your audience?
You need to notice what are the characteristics of your potential customers. You can observe your current members gain the information required on your target audience. Based on that information, you can find other people similar to your current members.
These people are more likely to engage with you on social media as they have the same interest as your current customers.
Another way to find your target audience is to check out online social media communities and forums. Search for topics that are related to your gym. For example, if you are offering power yoga classes, there are many Facebook groups based on Yoga, power yoga, and combinations of Yoga with other styles of exercises. You can target the members of those groups and people who follow such topics. These people will be interested in what you have to offer them.
Knowing who your audience on social media is very important for you to be able to engage with them effectively on social media platforms. When you can gain high and positive engagement on social media, your gym or fitness center's reputation will automatically increase on that platform.
Choose the right platform
One of the most common mistakes that gym owners do is creating an account on all the social media platforms that they could think of. In doing so, they often stretch themselves too thin by trying to maintain the accounts, posting, engagement, and similar other things required to have a successful social media presence.
If you are a relatively new gym, then the right thing to do is focus only on one or two social media platforms where the majority of your target audiences are. As a fitness facility, you can create an account on Facebook and Instagram, these are the two social media platforms with the highest number of monthly active users.
However, if you wish to be accurate about your keyword, then tools like BuzzSumo can help you know where most of the conversation around your topic happens.
Using the right platform allows you to reach your target audience without having to manage multiple social media accounts. However, if you find that you have a substantial number of audiences on different platforms and want to reach them with your content, you can use social management software.
It will allow you to manage all your social media accounts from a single interface without having to log in and out of various social media websites or toggle endless tabs on your browser.
Post valuable information for your audience
Social media platforms are, essentially, tools to establish yourself as an industry leader and increase your business reputation (in this case, your gym reputation) so that more people will trust you and start joining your gym. It indirectly helps your gym to attract more memberships for a longer time.
For this to happen, your audience needs something that can give them benefit from following you. You may think that giving out discounts and offers to join your gym will attract them enough to follow you. However, more than discounts, the information that you can give them is more valuable and attractive.
When users see that you are giving helpful information for free on social media, they will not only think that you are here to help but also start believing in your industry knowledge thus increasing your gym's reputation on the social media platforms.
However, that does not mean that you should not post any promotional content. Once in a while, you must also post some promotional content to let your audience be aware of the fact that you are giving discounts on your yearly memberships or that you are giving the first month free for the first-time gym-goers.
This will serve equally to your information-seeking audience and the audience that is trying to search for a gym membership.
Create your posts carefully
Not all your audience will follow you for the same reason. While some may follow you for motivation, others may follow you to know about how to do a perfect handstand.
Your social media platform's content should be able to serve a majority of your followers. And hence, you must see what kind of content your audience follows and accordingly create content that matches their taste and appeals to them.
For those who are following you to get motivation, you can put before and after transformation pictures. They will not only serve as a motivation for users but also show your audience what they can expect by joining your gym. And that will encourage them to inquire about your gym and even join it.
Other than that, you can post short recipe videos, exercise how-to videos, and much more so that you give more value to your followers with each of your social media posts. When people realize that they have a lot to gain from your account, they will start following you, trusting your business, and eventually join your gym as a member.
Reply, comment, and share
Engaging your followers and other users online is very important to build trust among your audience. It not only allows you to understand your audience a little better but also humanizes your brand which increases the trust that people have in you.
So whenever someone comments on your posts, be sure to reply to them appropriately. Even if it is a negative comment, reply in a way that turns their sentiment into a positive one.
Similarly, if you see someone posting something good about your gym on their social media account, you can comment on their post and share it on your timeline. Such posts are called user-generated content (UGC).
The best thing about sharing a good UGC is that it allows you to acknowledge the user that posted it and lets your followers know about what others think of your gym or fitness center.
You can also ask your gym members to post about their fitness journey and get their permission to repost it on your timeline to let your other followers see how you can help them achieve their fitness goals too.
When your members are the ones vouching for your gym or fitness center, people will believe them more as compared to you stating it yourself. And that will result in more inquiries about your gym and also more memberships.
FAQs
How do I promote my gym on social media?
Like we mentioned above, you should post more valuable content for your audience to acknowledge you as a reliable source and start following you. A faster way to promote your gym on social media will be advertising on social media. It will help you reach a larger audience within a shorter time at a minimal cost.
How do I attract more members to my gym?
There are many ways to attract more members to your gym, like giving more value to your clients within their paid price, showcasing how your gym helped its members achieve their fitness goals using social media, and so on.
How do I promote my gym on Instagram?
Instagram is a great platform to promote your gym. It provides you options to post a regular image, slider posts (that allows both images and videos), IGTV for longer videos, reels for shorter videos, and stories for disappearing content.
Showcase your gym infrastructure, member success stories, workout videos, staff takeover, etc. using the different features that Instagram offers you.
EndNote
Building a reputation for your gym or fitness center boils down to three things: knowing your audience, posting relatable and valuable content, and engaging with your target audience.
For that, you need to make sure that you use the right social media platforms, one where most of your target audience is present. Once you are on the platform, you need to create posts that appeal to different audiences and are equally valuable to all.
Content that provides value to your followers include:
1. Transformation videos
2. Before and after images
3. How-to videos
4. Healthy food recipes
5. Links to your fitness blog, etc.
You can also let your staff members or clients take over your social media to promote your gym in your stead.
That being said, managing the social media accounts will take a significant amount of time from your regular schedule, so you will need to optimize your gym management with gym management software. It helps you in managing your fitness facility more efficiently while automating several of your redundant tasks.
If you are considering purchasing one then you should first try the gym management software for free with a trial version and then purchase it. That way you will know what all features it offers and whether it has the features necessary for your gym.
With that, we conclude this blog. What do you think about the blog? Did we miss any point? Let us know through the comments below and we will be sure to add it in our next update.
Share This News On Social Media
Facebook Comments