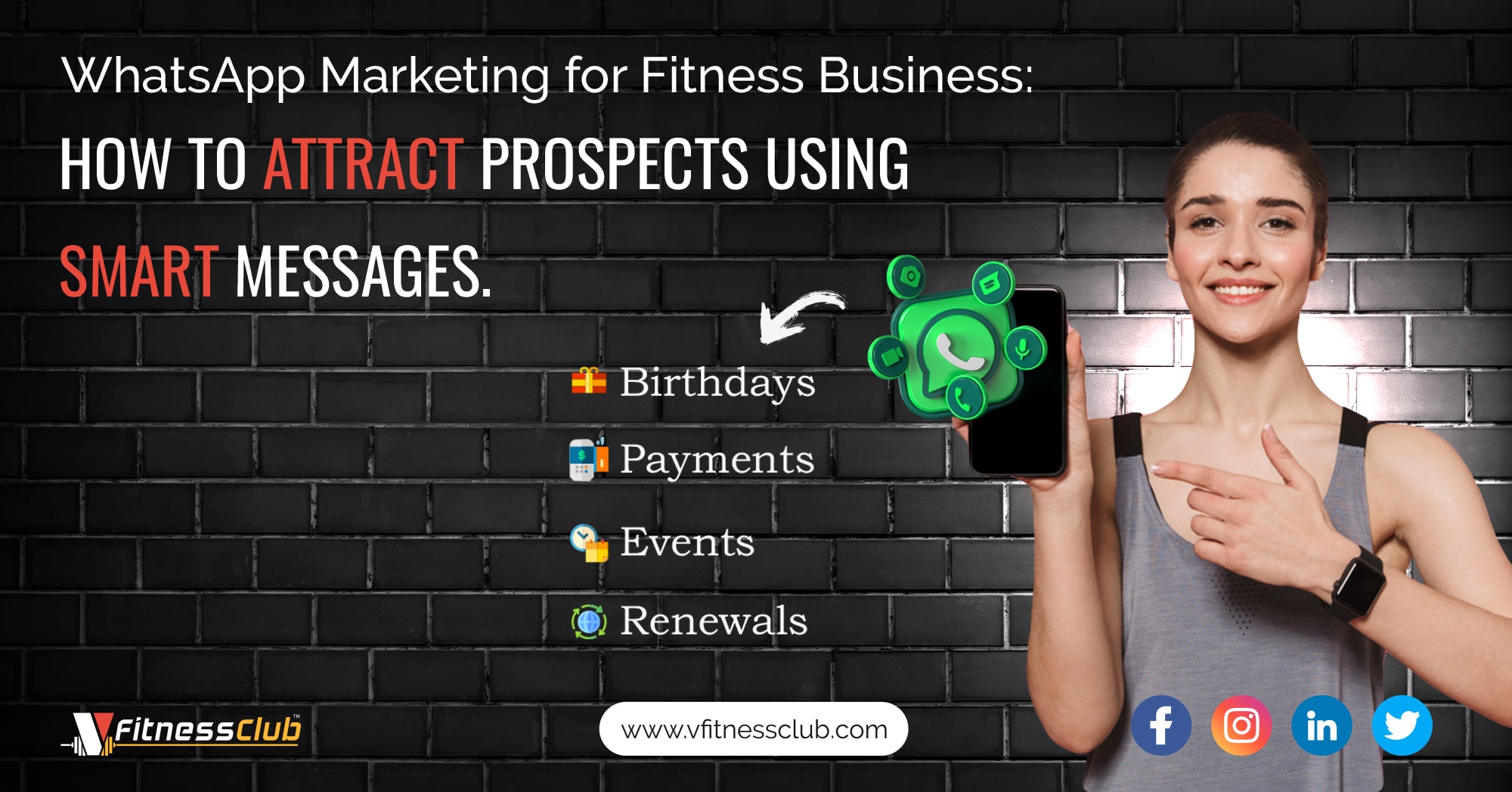 WhatsApp Marketing for Fitness Business: How to attract prospects using smart messages
Tejal Surve
29-07-2021
Whether your target audience is teenagers striving for a lean summer body, adults wanting to stay fit, or fitness enthusiasts wanting to achieve the shape and form of their dreams, most of them would be using WhatsApp. Leverage WhatsApp Marketing to reach out to your audience and retain your existing members.
WhatsApp is currently used by more than 2 billion people across the world with the highest number of users being from India and Brazil. This means that there is a high chance that your target audience, as well as your existing customers, are already using WhatsApp. Moreover, it is a more personal channel for many people as compared to social media channels or digital advertising.
If you are currently using gym management software, then all you need to do is ask your provider for WhatsApp integration in your software to start using the smart messaging app for your fitness business.
With that said, this blog will look into how you can attract prospects using WhatsApp Marketing for your fitness business. Keep reading.
What is WhatsApp Marketing for the fitness business?
WhatsApp for Business is an application for smaller businesses that allows them to manage different aspects of their business using WhatsApp. Similarly, for larger businesses, WhatsApp offers Business API to manage customers and their orders using the messaging application.
What you need to understand here is that as a fitness business, you too can use WhatsApp Business API to connect with your prospective customers and existing gym members. This technique to attract clients is a part of WhatsApp Marketing.
There are many benefits of using WhatsApp marketing to grow your business. Some of these benefits are listed below.
*    It is personalized
Everybody loves personalization! People are more inclined to pay attention to your message if it has a personalized element to it. WhatsApp Business API allows you to preset and personalize your messages by using placeholders for names and other information that may vary depending on the person, time, or any other element.
*    It has high open-rate
WhatsApp has almost replaced traditional SMS messaging because of which they are more likely to open the messages that they receive on the smart messaging platform. This ensures that your message reaches your customers.
With a high open-rate you can be sure that more people will read your message than not.
*    It offers rich messaging
Unlike text messages, WhatsApp allows you to send multimedia like images, videos, audio files, documents, and live location. With rich multimedia, you can make your message more effective.
Sending an image or a video along with your text message allows you to get better and longer attention from your target clients.
*    It offers read-receipts
Read-receipts are icons that show whether your message on WhatsApp has been read by your customers or not.
This way you can know who has read your message and whom you may want to send it again.
*    WhatsApp Chatbot
You can also include a WhatsApp chatbot to handle your client inquiries whether you are present or not.
The chatbot allows you to handle your gym inquiries 24/7. So no matter when the clients approach your business, you will have a way to interact with them and lead them down the sales funnel. You do not have to keep a person working all the time to take WhatsApp inquiries or customer support questions.
How can you use WhatsApp Marketing for your fitness business?
When it comes to fitness marketing, a lot of gym owners choose social media to interact with the target audience. And that is a great way to connect to your target audience. That said, adding WhatsApp to your marketing arsenal has its own benefits for your fitness business.
It allows you to interact personally with your audience and also provide robust service to your existing customers. This helps you to achieve two goals in one go. You will attract new clients to your gym and retain existing members.
Here are a few instances where WhatsApp marketing can be useful for your gym or fitness facility.
When you want to promote a gym event
Organizing gym events are a great way to promote your gym and attract new memberships. However, for people to join those events, you need to market the gym event so people come to know about it.
WhatsApp works as a powerful medium to reach out to your local audience. You can send them personalized messages along with the posters or promotional videos of the event and invite them to join.
Furthermore, you can send notifications about such events to your existing members and ask them to join as well.
Creating a gym FAQ
You can connect with your clients and members through WhatsApp or the WhatsApp chatbot. With the use of the WhatsApp chatbot, you can answer all their questions whenever they want.
The chatbot answers all their inquiries without you or your staff needing to spend time on the chat. You can create a list of queries that you frequently receive from clients. So every time a prospect, client, or member asks a question through your WhatsApp, the bot can help them out.
Provide 24/7 customer service to your members
As mentioned earlier, the WhatsApp chatbot automates your conversation with your clients and gym members allowing you to focus on other important tasks that are necessary to manage your fitness facility.
You can get it programmed to answer questions relating to your members' workout schedule, attendance inquiry, leaves, holding membership, and similar other queries that your gym members may have.
Sending marketing messages
Whether you are sharing marketing messages or sending a promotional message, you can send such messages via WhatsApp. However, for sending business messages, your target audience needs to opt-in. Only after they consent you to send them messages through opting in can you send them marketing and promotional messages.
Here are some ideas of content you can send to your customers:
-    Event invitations
-    Workout challenges - day wise
-    Changes in gym schedule
-    Gym promotional offers
-    Workshop and boot camp offers
-    Dietary advice
Whereas, for members, you can send all the above and more gym and workout-related messages.
-    Workout schedule changes
-    Notifications on trainers being absent
-    Announcements when the gym may remain close
-    Diet chart changes
-    Diet recipes
-    Payment reminder
-    And more.
Managing leads and converting them
Your gym management software would help you attract quality leads from the internet. However, you need to bring them down the sales funnel and convert them into paying gym members of your facility.
WhatsApp and WhatsApp chatbot can help you with that. While you can initially call them to answer their inquiries or ask them their requirements, WhatsApp can help you do the follow-up and send them promotional content to convert them.
EndNote
Using WhatsApp marketing for your fitness business is a convenient and efficient way to connect to your customers via rich messaging. When paired with great service, it can work wonders for attracting and retaining your gym members.
As your gym management software provider to integrate WhatsApp with your software to make the most out of your gym software's marketing module.
If you are yet to purchase one, then first try the gym management software for free before deciding to buy the license.
How would you leverage the power of WhatsApp Marketing for your fitness club's business growth? Let us know in the comments section below. If you liked this blog, be sure to share it with your friend by clicking on the social media sharing buttons.
Share This News On Social Media
Facebook Comments