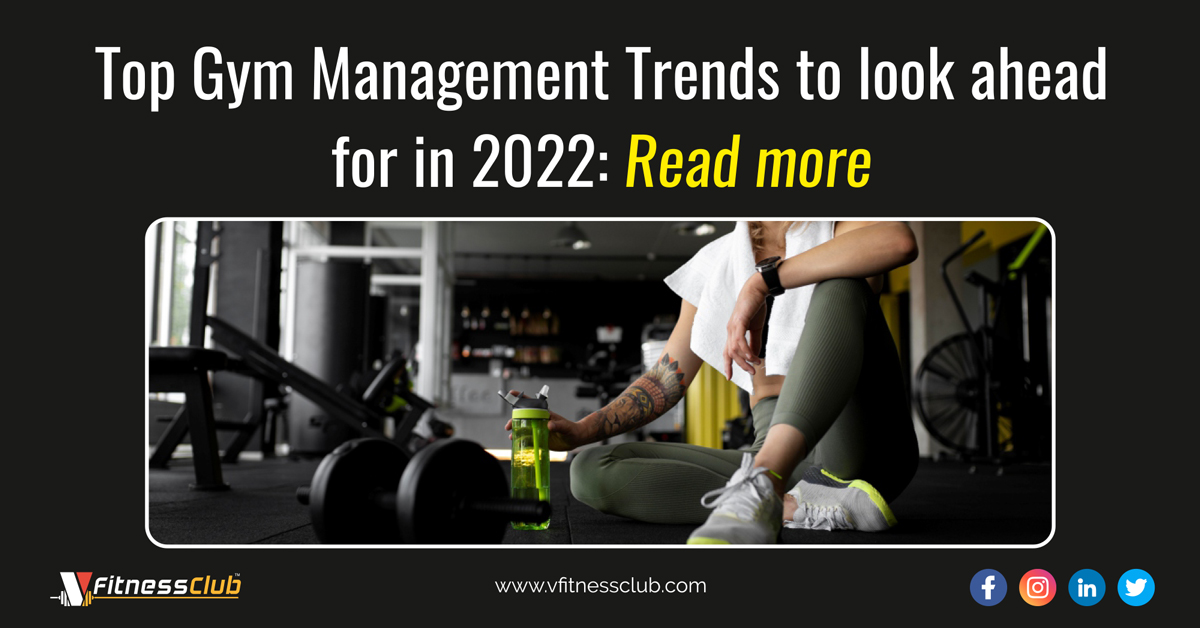 Top Gym Management Trends to look ahead for in 2022: Read more
Tejal Surve
16-11-2021
The fitness industry has gone through a lot of ups and downs in the past two years. During these years people have changed the way they stayed fit and how they interacted with gyms and fitness centers. With that in mind, many things in gyms changed too. The gym management that happened earlier was time-taking and completely manual. That is not the case today.
In this blog, we will be discussing top gym management trends and how you can utilize them in your everyday life at the gym for more efficient handling of fitness processes. But before we jump into it, tell us what are some of the fitness trends that you have encountered in the past year, and think that will carry on in the next. Share your thoughts in the comments.
Now then, let's see some of the changes from this year and the past that may impact the future.
Changes in Fitness Industry in 2021
The year 2021 has been less turbulent for the fitness industry as compared to 2020. Fitness technology has opened up ways for fitness enthusiasts to keep their workouts in check while being away from gyms and fitness studios.
Some of the major changes that we saw in 2021 are:
Flexible training – Gym members and fitness people were more flexible regarding their training times and places. No more were they confined to indoors, home or gym. The idea of training in the morning or evening also became dated as people were exercising in their free time, whenever during the day.
Digital exercising – People started relying on their smart gadgets to complete their daily workouts. They no longer need to physically be at the gym or a fitness center to complete their scheduled workout sessions with their trainers.
Wearables – Wearables are one of the major reasons for the upward curve in the fitness industry in recent years. This year too saw a large elevation in the use of wearables among people. With more affordable options in the market, a larger group of people now sport wearable devices to manage their fitness.
Inclusive workout spaces – The fitness community loves working out together and that has shown in the way their workout spaces have become inclusive of the LGBTQ+ community. Gyms and fitness studios have now started to become available to all regardless of their identity or age.
Hybrid gym models – Gyms are not only physical spaces anymore. More and more gyms have adopted tools like gym management software to bring their spaces online. This has allowed them to connect with their members and prospects on the internet as well.
With these many small and big changes, gyms and fitness centers have also changed the way they manage their members and facilities. These changes are not only helpful for the efficient management of your fitness facility but also help to increase your gym profit.
Here are top gym management trends to look ahead to in 2022.
Gym management trends in 2022
People have changed the way they interacted with gyms and fitness centers. To keep up with the change, fitness facilities have also adopted a few things that help them grow in this digital world.
Here are the top trends in gym management that you can look forward to in the upcoming year.
Remote Management
Managing gym tasks and operations on the go is one of the trends that will see an upward curve. No longer will gym owners or managers need to stay in their cabin managing heaps of documents or sorting our excel files on the computer.
With an increase in the use of tools like gym management software, most gym owners use a smartphone application to manage their fitness facility online. This allows them to be active on the gym floor and converse with the members to take their feedback on gym services.
The major benefit of this is that gym owners get to do what they like the most - train with their gym members. And if it is the gym manager, they can talk to the gym members and gather feedback on their services or ideas on how they can further expand their gym.
Livestream Training
Due to the global pandemic, a lot of gyms and fitness facilities had to keep their doors closed for a long time. However, that did not mean that a lot of them kept their services closed for their clients.
Many gym centers and yoga studios turned to gym ERP software and similar other tools that allowed live streaming so that they can connect with their members instantly. Live streaming or live fitness sessions allow gym trainers to conduct group training sessions while being physically away from them.
With live streaming, gym members can work out with the help of their trainers without having to go to the gym. While this proved to be an important measure during the pandemic, it will continue in the coming years for the flexibility it offered the members as well as the gym owners and trainers.
Flexible Schedule
Gone are the notions of working out at specific times of the day. With busy schedules, people often prefer flexible workout schedules. This allows them to keep their routine regardless of when they attend your gym or fitness center.
With flexible timings, fitness enthusiasts complete their daily exercising sessions whenever they have the time. This improves your gym member attendance and encourages them to stay fit.
More people will welcome flexible gym timings to ensure their fitness. Work and lifestyle play a huge role in managing fitness, so as time passes, more people will let go of strict gym timings and embrace fluid schedules.
Streamlined Communication
Communication is key to every successful institution, the same is true for fitness facilities. Consistent communication with your gym members retains your members and makes them feel connected to your gym community.
The feeling of being a part of the community can have a stronger hold on your members encouraging them to work out regularly and be connected to your gym for longer.
Tools like gym management ERP software offer WhatsApp and SMS integration along with mobile applications for members. With these features, you can send important notices, messages, and other communication directly to your gym members and staff.
Having a streamlined communication channel will also make up a large part of robust gym management in 2022.
Transparent Online Payments
Another important part of gym management is managing the gym payments. In 2022, with the increase in online transactions, gym and fitness members will also insist on transparent online payments. Your fitness facility will have to keep up with this by providing a facility to pay membership fees online.
This not only increases the transparency in every member to gym transaction but also allows you to manage every payment with higher accuracy hence improving your finance management.
FAQs
What are the most popular fitness trends?
Here are some of the most popular fitness trends seen among the gym enthusiasts of India:
Flexible training
Digital exercising
Wearables
Inclusive workout spaces
Hybrid gym models
These trends will keep evolving for the better in the upcoming year.
Is the gym industry growing?
With the increase in fitness technology, people have become more conscious about their health. This has led to significant growth in the fitness as well as gym industry.
What are the current trends in the fitness industry?
Improved accessibility, flexible schedules, and fitness management technology are slowly dominating the fitness market. This will also carry forward to the next year. Gyms and fitness centers using software to manage gyms and similar other technology will triumph as time passes.
EndNote
The fitness industry is growing faster than ever before. The pandemic has only made gym owners and members think of new ways to connect and continue on their fitness journey. Taking into consideration all these things, here are the top gym management trends to look ahead for in 2022:
Remote Management
Livestream Training
Flexible Schedule
Streamlined Communication
Transparent Online Payments
A gym management software like VFitnessClub helps you provide all these and more with its important features and modules. It also offers a gym management application for members and gym staff to manage their tasks at the gym, remotely.
Get your hands on the gym management software for free with the trial version of VFitnessClub and experience how it simplifies and automates several gym management tasks. It increases work efficiency, optimizes expenses, and improves your business performance.
What other gym management trends do you see emerging? Share your thoughts in the comments below. If you found this blog helpful, don't forget to share it with your friends and family.
Share This News On Social Media
Facebook Comments