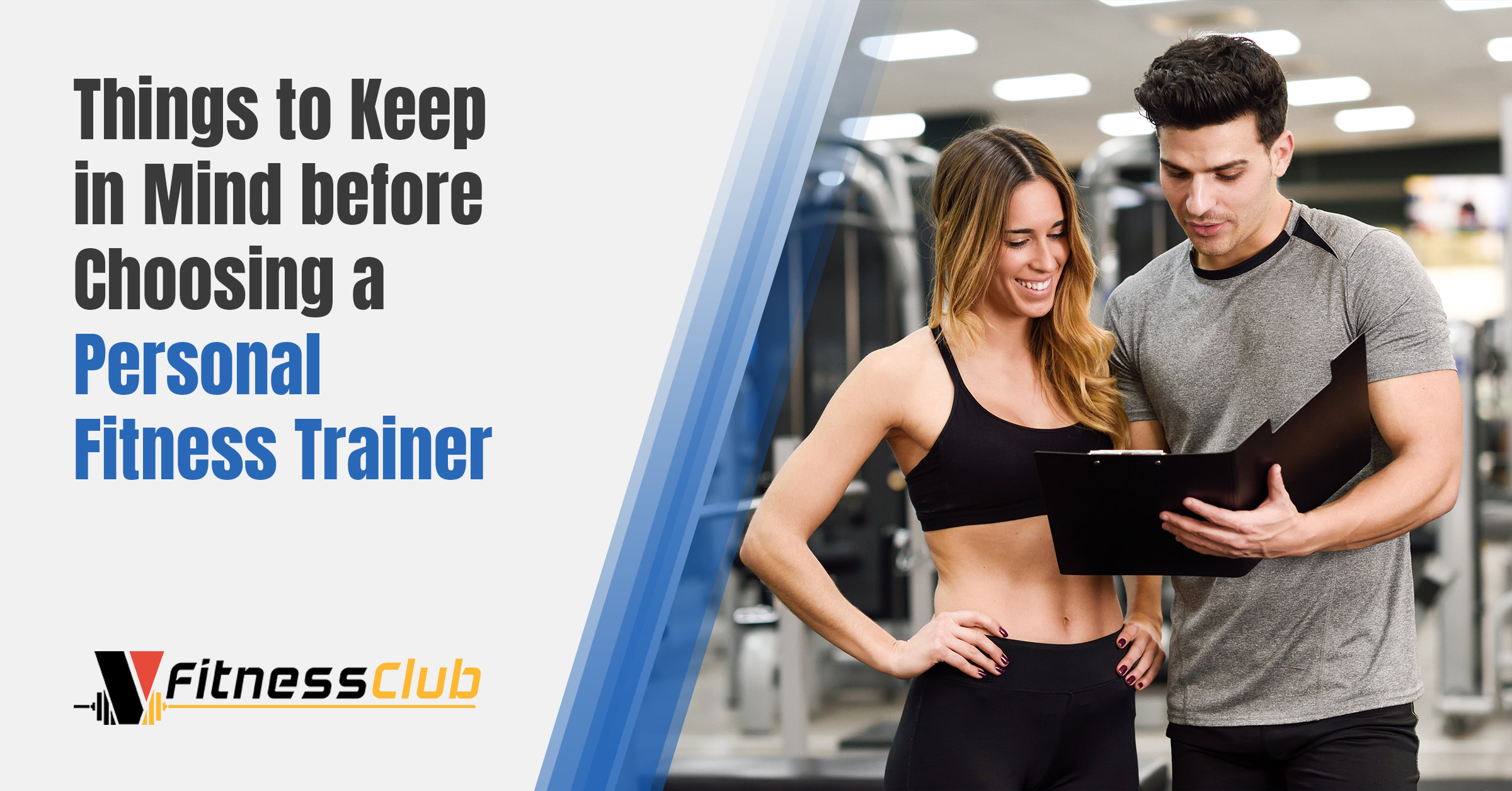 Things to Keep in Mind before Choosing a Personal Fitness Trainer
Admin
26-11-2020
Whether you have been physically active and exercising on your own or starting fresh, if you are looking for an expert to guide your training, then there are certain things that you need to keep in your mind.
The fact that you are reading this blog means that you are thinking of hiring a personal trainer, which is a good thing because personal trainers play a significant role in helping you reach your goal faster and more efficiently.
However, before starting the personal training, you must make sure that the personal trainer you choose is suitable for your goals and style of working out. In today's blog, we will discuss important things to keep in mind before choosing a personal trainer.
What to look for in a good personal trainer?
A personal trainer may be the most popular in his field, but that does not mean that he would be good for your style and activity for exercising. So, before giving out your money to just any trainer, let us discuss some measures you can take to see if the fitness trainer is right for your fitness goals or not.
Here is what you need to know:
Check certifications and experience
When you go to a doctor, you make sure that he or she is an expert in the field and has degrees and certificates to verify that, don't you? Similarly, before letting a personal trainer handle your fitness and health, you must check his/her certificates for credibility.
International certification programs like ACE, ASCM, and Gold's Gym, along with Indian certification programs such as K11 fitness academy and BFY allow Indian fitness trainers and instructors to take a certificate or degree course and receive the certification or degree.
This way, at least you know that the person you are choosing to be your trainer is a trained professional and has met the standards of a reliable institution.
Similarly, you must also look for a personal trainer with substantial experience to understand your fitness needs and help you out accordingly. See what he/she is an expert in and whether that is the activity you want to do to stay fit and active.
For example, if you are more comfortable with doing yoga for fitness, a HIIT trainer may not be of much help to you.
Get references
Good personal trainers often showcase their success stories and client testimonials. These will be helpful to you to see if the trainer has previously worked with anyone with the same fitness goals as yourself and if that person has undergone a transformation that you want in your body or not. You can also talk to the trainer's previous clients to know how he/she works and see if it suits your style.
If your friend suggested someone they know, then ask for their experience with the trainer and go to meet with that trainer to get to know their working style better.
Suppose the trainer is working for a gym, then you can go to the gym and talk to other people who have worked with him or her. This will also let you know if the trainer is good at his/her work or not. You can ask them about his/her working style to see if it fits with what you want.
Some trainers use positive reinforcement to encourage their clients to work out harder, while others are more strict and straightforward. It is upon you and what motivates you better to keep working out.
Talk to the fitness trainers
After a thorough background check, it is time to meet the trainer and understand his/her philosophy. You must ask about how they are going to make the exercise plan, what are their fitness beliefs? And see if you agree to them and are comfortable with the exercise plan or not.
Other inquiries that you need to make are about his/her schedule. See how many clients do the trainer currently has and will he/she be able to accommodate your schedule or not. Check if you can reschedule any missed appointments if you want to make up for it and when you should book your appointments.
You must also see his/her personality and if it works for you. You will need to spend a substantial amount of time while working out with the trainer, so you need to be sure that your personalities do not clash.
Also, make sure that you are comfortable with the trainer's gender. Where some people are comfortable with trainers of the opposite sex, others are more comfortable with same-sex fitness trainers. Discomfort should not be a hindrance to your physical fitness.
Ask for the package rates
Before choosing a personal trainer for yourself, it is necessary to check your budget. Always ask the personal trainer for their charges. Most fitness trainers take around 500-1000 INR for a single session. The charges may differ based on the location of the gym, the services they offer (instruments, diet plan, exercise plan, etc., their credentials, and whether you want to train in the comfort of your home.
If this does not fit your pocket then, you can opt for trainers that offer smaller group sessions or semi-private sessions. Their charges may also depend on whether they work for a gym or independently.
Read their business policy
Professional trainers will always give you a written policy document with their cancellation policy and package payment details. If they are only telling you all these details verbally, then insist on getting a written copy of the agreement.
This will protect your rights and theirs if there is any legal procedure in the future. You must also check whether the personal trainer has professional liability insurance or not.
These are some of the things you should find out before choosing a personal trainer for your fitness. It may be a little overwhelming to those who are newly starting to exercise. In the end, go with your intuition to choose the trainer who feels right for you.
Conclusion
Fitness is important for leading a healthy and happy life. So, it should not be a drag to keep yourself physically fit. A personal trainer is someone who would positively motivate you to keep pushing through your fitness goals and keep yourself healthy. However, the personal trainer must be someone suitable for you and your fitness goals.
Here is what you need to make sure of:
· Check certifications and experience
· Get references
· Talk to the fitness trainer
· Ask for the package rates
· Read their business policy
And if you are satisfied with what you saw and heard, only then choose the trainer.
Did you know that many gyms offer free personal training services for the first month for new members? It will help you to get out of your comfort zone of working out at home and provide you with exercising plans that are tailored for your needs and fitness goals.
The gym does not have to be a constant struggle doing something that you do not like. You can choose the activity of your liking, from dancing to kickboxing, as the ultimate goal will be to keep your body and mind healthy and fit. So, join a gym and take control of your health and fitness.
Are you a gym owner? Check out our owner's section of the blog to find out some interesting topics on gym owning and how to make your work easy.
Do share your thoughts on today's article in the comments the section below and if you have any questions, drop them in the comments, and we will be sure to answer you as fast as we can.
Share This News On Social Media
Facebook Comments