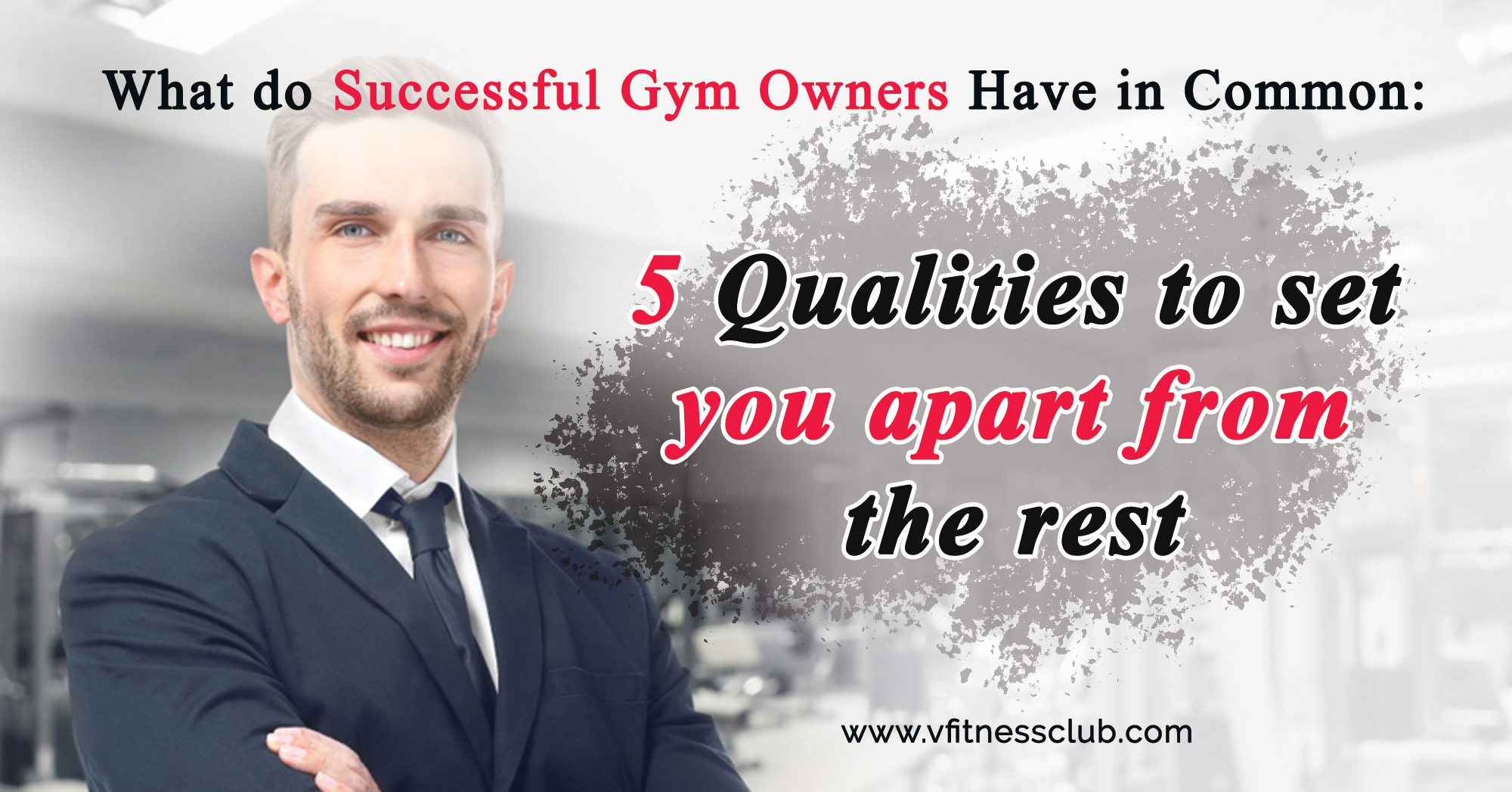 What do Successful Gym Owners Have in Common: 5 Qualities to set you apart from the rest
Tejal Surve
14-08-2021
As people are becoming more aware of their health and fitness, they are starting to join gyms and fitness studios, whether online or offline. The fitness industry has always been a flourishing one. Opening a gym or a fitness studio can be very profitable if done the right way. Many successful gym owners would agree to this, However, this does not mean that running a fitness business is, in any way, easy.
Whether you are using tools to help you manage your fitness facility efficiently like the gym management software or not, there are still many things that you will have to take care of as a gym owner.
As a leader, the owner has the ability to turn a small new gym into a brand with the right decisions. This blog will be discussing the top 5 qualities of successful owners of a gym that set them apart from the rest.
Before that though, let us understand the duties and responsibilities of a gym owner.
What are the responsibilities of a gym owner?
The responsibilities and challenges that a gym owner has to face only start with the opening of a new gym. As a gym owner, you need to manage the finances, employees, clients, and equipment. To say in short, the owner of a gym is responsible for the management and maintenance of the gym to keep it running smoothly for a long time.
Starting from the employee hiring and management, you also need to manage the financial aspects like the lease agreement, taxes, payroll, bills, etc. You are also responsible for the growth of your gym, physically as well as financially.
As the owner of the fitness facility, you are also responsible for your employees and members. Especially, your gym's employees will be more like an extension of yourself. You need to ensure that they are happy so that they will treat your clients with just as much care.
Once you open your fitness facility, you need to carefully hire a qualified team that will put in as much effort into the gym as you do. That being said, motivating that staff is your responsibility.
What are the qualities of successful gym owners?
Not just the fitness business, any business will not grow successfully without the correct leadership of its owner. Gym businesses too need intuitive leaders to bring them on top. That being said, successful gym owners have these major qualities that set them apart from the mediocre.
Let's see what these qualities are.
Consistency and discipline
Similar to how you would expect your gym members to have consistency and discipline in their workouts to achieve their fitness goals, you too need to keep doing all your tasks with regular consistency and maintain the strict discipline that will allow you to complete your work on time.
Gyms or fitness centers have many different tasks and many of them need to be completed daily, for example, daily accounts, attendance records, maintaining the cleanliness of your facility, etc. These tasks may seem menial at the start but if you do not have the consistency to manage them on time, then they will start piling up in no time. Eventually, they will seem too big.
Discipline is a factor that will increase the trust people have in you. Reaching to the gym on time, attending the meetings on time, respecting others in your industry - employees and competitors likewise, are some traits that will make people start recognizing and respecting you as the leader you are. It is also about sticking to the values you've created for your business and your business ethics.
When you have the consistency and discipline to get things done when they need to be done, your gym will gain in abundance.
Patience and persistence
When you are operating a business – gym or otherwise – things take time. It will take time and effort for your prospects to become your gym member and it will take time to grow your gym. So, you need these qualities - Patience and Persistence.
Patience will help you make better and level-headed decisions when things are not going your way and persistence will ensure that you do not give up halfway when things are hard.
The fitness market is brimming, and your facility is going to face heavy competition. In such a scenario, persistence will keep your fitness facility floating and growing over time. Opening a fitness center is easier than surviving it and making it successful.
Having the virtue of patience and persistence will keep you in business much longer and help you grow it to the position you aim for.
Eye for good investments
By investments, we do not only mean monetary investments but also investments in people that you plan on hiring for your facility and tools that can improve your business.
Your gym staff is also the face of your fitness facility. They are the ones that come directly in contact with your members and clients. So, you need to hire people who share your passion for fitness and your business.
That being said, you must also take their care as you take care of your other investments. Understand what they need to work more efficiently, recognize their hard work, and reward them accordingly. This will help you retain your best employees.
Similarly, adding smart tools that can increase your staff's work efficiency is also a good investment. For example, installing gym management software will help you assist and automate several of your daily gym tasks like fees management, accounts, attendance, member and employee management, and much more.
The gym ERP software combines several different systems like the billing system, fees reminder and management, inventory and package management, member and employee attendance system, employee and trainer management, and much more.
Using the right software along with the right people will increase your gym productivity and amplify your profits.
Including technology in your gym to increase its efficiency brings us to the next point.
Ability to adapt to changes
As a business, you will encounter many opportunities as well as hurdles. To keep your business afloat, you need to adapt to every situation you face. As the saying goes, "When life gives you lemons, make lemonade."
Successful gym owners have the ability to find opportunity in crisis and use it to ensure that the gym and its employees always stay strong.
That being said, change does not only come in the form of hurdles. With the changing world, the needs and requirements of your clients also change. As the gym owner, you need to stay updated on all the latest trends and changes.
The best way to do that is to read news related to your industry, check out the technological advancements in your field, and see how you can implement them in your gym.
This will give you an edge over your competition and attract more memberships to your gym. So, follow blogs and other resources online that would provide you with the latest news from your industry.
Skills to aptly communicate with others
Communication skills is one of the most important qualities that a successful gym owner must have. It allows you to make new connections with others from your industry. These connections with the sellers, vendors, trainers, coaches, suppliers, and others can help you grow your business faster.
Good communication skills help you build long-term relationships with the people in your industry. And these relationships can be very helpful for your business growth over the years. Moreover, these communication skills can be very useful in a crisis as well.
Improving your social skills will let you avoid many problems and turn crises into opportunities.
Related Article: 5 Worst Fitness Business Mistakes Every Gym Owner Must Avoid
FAQs
What skills do you need to be a gym owner?
Managing a gym is the same as managing any other business. Hence, apart from the ones discussed above, being able to manage your finances, building strong relationships with your clients, offering great services to them are some of the basic skills you need to have to be a gym owner.
What do gym owners struggle with?
There are many problems that owners of a gym face to keep their gym working smoothly over the years. However, attracting new members to your gym and retaining your current members is one of the biggest problems that gyms would face.
A gym management software helps you do that with the different features it offers like attendance management, diet and workout schedule, online fees payment, and many more.
Is opening a gym profitable?
When done the right way, opening a gym or a fitness center can be very profitable. However, you need to be persistent in your efforts and stay patient for better results.
EndNote
Managing and taking care of a gym and everyone associated with it is the responsibility of its owner. Here are the top 5 qualities that every successful gym owner has that you too can cultivate in yourself to take your gym business to another level.
These top qualities are:
Consistency and discipline
Patience and persistence
Eye for good investments
Ability to adapt to changes
Skills to aptly communicate with others
Using gym management software can improve your fitness facility's overall productivity, optimize your expenses, and allow you to provide exceptional facilities to your members and staff.
If you are unsure of which software would suit your gym's needs, you can start by getting a free trial of gym ERP software to see whether it suits you or not.
Tell us what else would you add to this list? Comment your thoughts in the comments below. And if you find this blog helpful be sure that you share it with your friends and peers on social media.
Share This News On Social Media
Facebook Comments