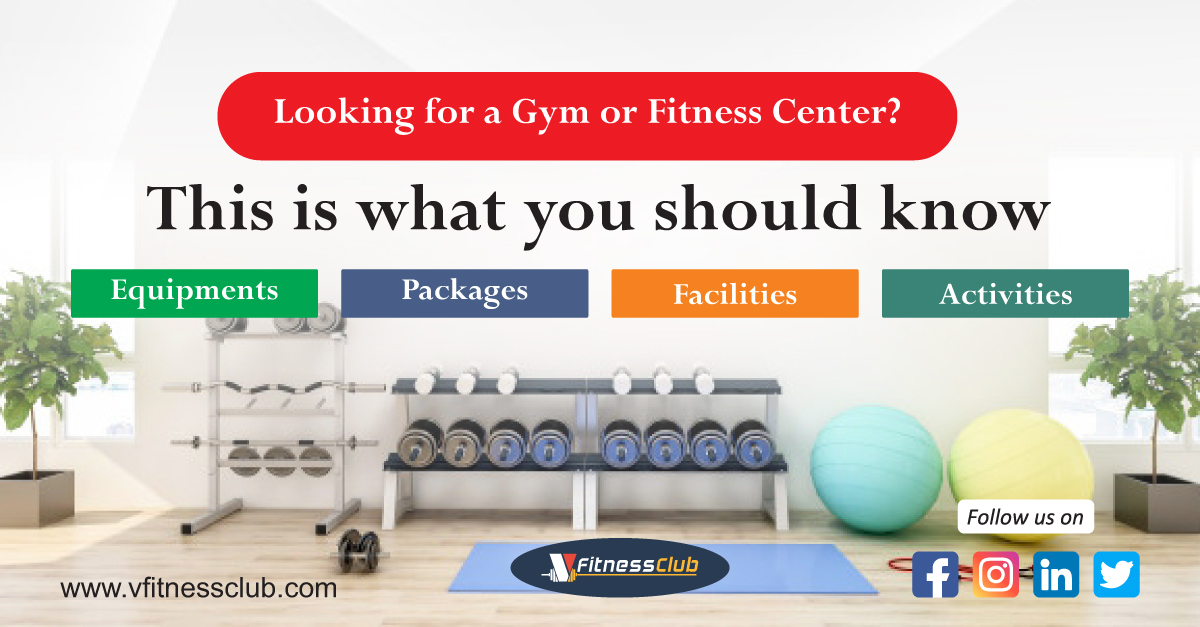 Looking for a Gym or Fitness Center? This is what you should know
Admin
28-10-2020
Every one of us likes the idea of having space where we can work out comfortably. After all, exercising is one way to keep ourselves fit and relaxed from the hustle of our daily lives. Gyms and fitness centers are the places that provide us the right space where we can enjoy exercising with other like-minded folks.
When it comes to physical activities, most of us have a set list of things that we need while we exercise. Some need upbeat music to give the extra push while some may want a serene atmosphere to relax. Most of the time, we tend to only look for the facilities and the membership cost of a gym or a fitness center.
However, there are many different things that we need to consider before joining a gym or a fitness center. If we are someone who is joining the gym or fitness center for the first time, then these things do not come to our mind. We only realize their importance when we find them lacking in our current gym.
So, let's list down all the things we need to consider before joining a gym or a fitness center.
Things to Take Care of Before Joining a Gym or a Fitness Center
Staying fit and healthy is important to improve our quality of life. How we do it is just as important. Below we have listed 8 things to take care of before joining a fitness center or a gym.
1. Amenities
To be honest, almost everyone who goes to a gym, whether a regular or a first-timer makes sure that there are enough facilities in a gym to allow us to exercise comfortably. These facilities include but are not limited to, proper air conditioning, changing rooms, showers, vehicle parking the facility, and varied equipment.
Yet, it is an important point to be included in the list. So before joining the gym make sure you inquire about all the amenities that they provide.
2. Fitness Activity
There are plenty of fitness activities that we can choose from to stay active and physically healthy. These activities range from Zumba and Aerobics to Kickboxing and Mixed Martial Arts. We need to be sure which activity we are interested in. That way, we can narrow down our search to only those gyms and fitness centers that offer us Aerobics or Kickboxing.
This choice is also important to find fitness centers with experts in that specific field. For example, if we are looking for a center to practice Zumba, it will be more beneficial to choose a gym with expert Zumba trainers. VFitnessClub is a portal that separates gyms and fitness centers according to the different activities they offer. This way, we can easily find the right Zumba or an MMA training center around us.
3. Fitness Goal
Some people want to lose weight, some want to have that perfect body shape; some would want to relax in Zen while others only need the body pain to be gone.
Our fitness goal plays an important role in choosing where we are going to exercise to achieve it. Going to a meditation center to lose weight may not make much sense. So, we have to be sure about what goal we need to achieve. Accordingly, we can choose the gym or fitness center we want to go to. A fitness andwellness center would be great for having some quality Zen meditation.
4. Location
Having a training center close by is very important. It is one of the factors that motivate us to keep going. Studies show that having a fitness center or a gym close psychologically makes us want to go regularly since "it isn't too far". This is especially important for recreational gym-goers.
Apart from all that, having a gym nearby takes lesser time in traveling. This can be helpful if we have a busy schedule. So, let's make sure that we look for gyms closer to our place.
5. Working Hours of the Fitness Center
We have so many things to do in a day. Within tight schedules when we want to adjust an hour or half for our health, we need a gym that works during those timings. Some gyms only operate before noon hours, others open late but operate throughout the day. So if we are someone who can spare time in the morning, it will be better to find a gym that opens early in the morning so that we get enough time to exercise and then start our day. Many gyms list their operating time so that we can choose the one that fits our schedule.
6. Emergency Procedure
Gyms and fitness centers are places where a lot of physical activity takes place. Naturally, these are also places where people tend to be prone to internal or external injuries. Often sudden vigorous exercise may also lead to cardiac arrest. In such situations, gyms provide CPR and other medical first aid. Many gyms have a specific staff members trained for this.
To ensure our own safety, we must inquire about the emergency procedures that the gym carries out.
7. Staff Credentials
When we put so much money in gyms and fitness centers for our health, we must get our money's worth. That includes getting trained by professionals. Therefore, knowing the credentials of the staff at our chosen gym or fitness center can assure us of the quality training we will receive.
It would be nice our yoga instructor is a certified yoga instructor, wouldn't it?
8. Clean and Well-Maintained Equipment
Gym apparatus are used by different people without our knowledge. But studies show that more than 60% of the gym surfaces that are touched regularly contain rhinovirus which can cause the common cold.
We need to check how often the equipment is cleaned. Many gyms often clean the floors by the end of the day. We can either search for other fitness center or keep a hand sanitizer with us while working out. This way we can keep ourselves protected from unwanted germs and viruses.
Summary
In today's blog, we discussed the 8 most important things to take care of before joining a gym or a fitness center. These 8 things are Amenities, Fitness Goal, Fitness Activity, Location, Working Hours, Emergency Procedure, Staff Credentials, and Clean, well-maintained equipment.
These factors are necessary to have a comfortable workout experience. They also influence our motivation to continuing to a gym and keep us healthy.
Is there any point that we missed? Let us know in the comments. Also, share your best and worst gym experience with us and our readers.
Share This News On Social Media
Facebook Comments