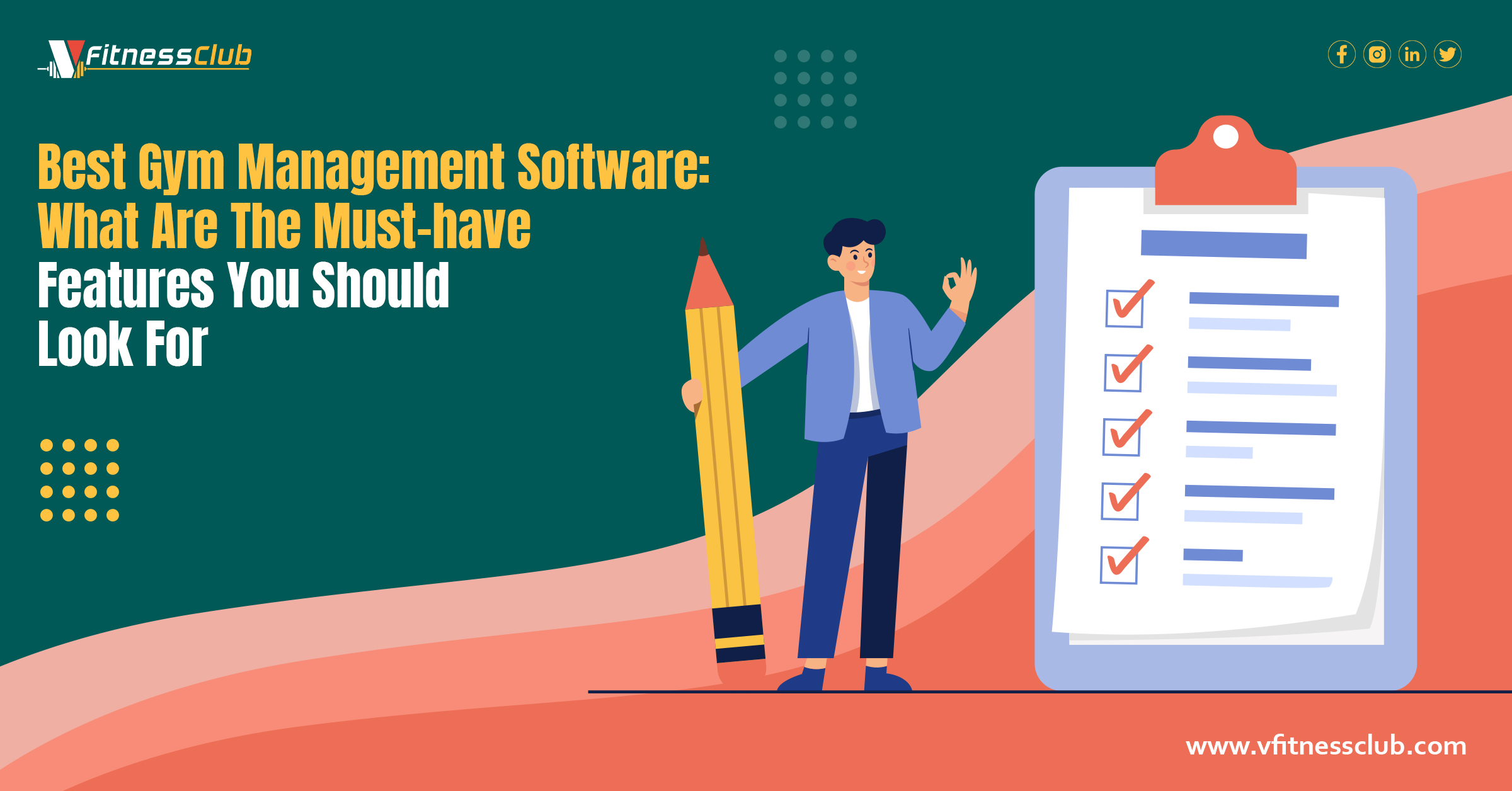 Best Gym Management Software: What Are The Must-have Features You Should Look For?
Admin
05-03-2021
As the awareness about their health and fitness increases, people are leaning more towards having professional trainers for their fitness management. People choose their style of staying fit, whether it is with Yoga, mixed martial arts, weight training, or Zumba.
Even so, most people who are conscious about their fitness or those with a specific fitness goal in mind choose to workout with a trainer. This is because a personal trainer not only teaches the right technique and posture to do the exercises but also pushes and motivates you to do an extra set.
Whether you are a small gym or a huge fitness center, you need to manage it efficiently to increase its productivity and revenue. When you manage your resources that create your gym more efficiently, you will be able to save more and optimize your expenses to gain more profits.
This is where a lot of gym owners find gym management software useful. It not only assists you in managing your fitness facility but also automates several smaller tasks that used to take a lot of your time.
There are thousands of gym and club management software across the world and every single one of them is different in some way or other from its competitor. Despite having unique features, any best gym management software should have some features that will ultimately improve your gym's efficiency.
Here are some of the must-have features of the best gym management software.
Member & Employee Management
One of the most tedious tasks that a gym owner has to do is manage the details of the gym members and staff.
There are so many things that need to be considered while managing multiple members and employees. This includes the member payments, registration details, medical details, exercise and diet details, etc. For staff, it includes, staff's personal information, payroll details, leave details, certification details, etc. Once you have all these details, you should be able to retrieve them whenever you want.
Gym management software helps you in managing and organizing the member and staff details in a neat way that allows you to sort the details and access them easily whenever you want.
Inventory Management
Your gym inventory includes the equipment, any merch that you may sell, towels, water bottles, energy drinks, and any other products that you may have to restock regularly to give added convenience to your members.
Where equipment may have a longer life, other inventory like energy drinks and water bottles may need to be restocked quite frequently. And it is products like these that eat up much of your expenses.
With the inventory management feature of your gym management software, you will be able to track your inventory and optimize its usage so that you can restock only the required amount without spending money on extras.
It also manages your suppliers' list so that you can track the supplier that gives you quality goods at the lowest prices. You can manage the list of suppliers and go back to them to buy your next stock when your current one is about to finish.
This decreases the funds needed for inventory which can increase your gym revenue without having to compromise the quality of your products.
Package Management
As a gym, you will get different types of members who need different facilities to stay fit. You cannot ask all of them to buy one set of exercises and offers to achieve different fitness goals and at the same amount. Or else you will lose potential members who need only some of your services or those who cannot afford your prices.
This is why many gyms have different packages based on the services they offer at different prices that fit the budget of a wide variety of members. However, keeping a manual track of these membership packages along with the members that use them is quite hard.
However, the package management feature offered by the top gym management software, allows you to not only manage the packages but also create them whenever you feel the need to create one to target a specific audience.
For example, if you wish to target older people for a new exercising schedule, you can create a package specifically for people older than, say, 50 years with prices that align with that demographics and promote it. And when you start receiving new members of your targeted age group, all you have to do is select the package that you have already created to add them as your gym members.
Enquiry System
To boost your fitness business, there are two very important things that you need to take care of. One is, as we already discussed, proper management of your gym, and the other is getting new memberships now and then.
There are many gym management software that would help you in managing some aspect of your gym but what sets a top gym management software apart from regular software is its functionality to help you attract new members to your gym.
The enquiry system connects your gym management software with an online listing portal that notifies you whenever someone inquires about joining a gym or fitness center.
This feature gives you an upper hand when it comes to attracting more members to your gym before your competitors can. Within your gym management software, you receive an inquiry notification stating the phone number and email id of the inquirer along with the message that they may have added in the inquiry box.
You can follow-up on this lead and focus on how you can convert them into your gym member.
Live Sessions
The recent pandemic taught all that we need to be ready with alternatives to keep going no matter what. A lot of gyms and fitness centers were closed temporarily or permanently because of the lockdown. But where does gym management software come into this equation?
Understanding the need to connect your members virtually to stay fit wherever they are in the world, the best gym management software will have a live sessions feature.
The dedicated live sessions feature offers you all the tools to allow your gym members to attend the gym virtually through their smartphones so that they would never miss training, whether they are nearby or across the globe.
Live sessions connect you with your members to give them the right training along with correct postures and techniques to help them achieve their goals without any risk of injury.
This is the feature that can help you give service to your clients whether they are local or not that too without any additional investments. If you gather a good client base away from your location, you can then consider opening a branch in that area.
Account Management
Do you spend much of your time organizing and managing your finance? If yes, then this feature of the gym management software is for you.
Account management keeps a tab of every transaction made in your fitness facility. From your profits from the membership fees to the expenses on the inventory and staff payroll, you can register all your transactions in the accounts management feature of the gym management software.
This feature helps you identify your sources of income and expense down to every penny spent and earned. It helps you understand how much profit your gym is gaining and tells you where you need to improve to save or secure more.
In the account management interface, you will see a concise chart of your income and expense that will allow you to think of more creative ways to increase your profit.
Attendance Management
Managing your member and staff attendance is very important when it comes to operating a gym more efficiently. It helps you to organize your staff salary and your member's re-schedule time-table.
However, to make your members and staff sign an attendance register may take up a lot of time that can be used to give more services to your clients. That is why you can easily sync your biometric device with the gym management software.
It will also help you to increase your gym's security as the biometric or QR Code device will not allow the non-members in without your permission. Once they register their biometric or scan the gateway QR their attendance will be automatically registered within the gym management system.
You can roll out the salary as per your staff's attendance, this makes it easier than sitting at the end of every month to calculate the days each of your employees has been present or absent.
Moreover, you will know if a member misses her/his workout. You can either reschedule it or send them a notification reminding them of their session.
Members'/Trainers' Mobile Application
Talking about notifications, do you know that the best gym management software will allow you to send notifications directly to your member's smartphone?
With the dedicated member's and trainer's mobile application, you can send important notifications to your trainers and members without invading their privacy.
Trainers can create and share the workout and diet schedule with every member right from their smartphones. Members can check their attendance, their workout schedule, diet plans, their payment history, and much more from their gym management member's mobile application.
Members can manage their workout schedules more smartly to reach their fitness goals faster. It gives added convenience to your gym members and that plays an important role in retaining your members as well as attracting new members.
Conclusion
There are many gym management software in this world but what your competitor needs may be completely different than what you need. Besides, not all gym management software is right for your gym.
However, there are some features that any best gym management software should have to assist you in managing your gym more efficiently. These features are:
● Member & Employee Management
● Inventory Management
● Package Management
● Enquiry System
● Live Sessions
● Account Management
● Attendance Management
● Members'/Trainers' Mobile Application
You can start with a free trial on gym management software to understand the software and see if it truly has all the features that you need to run your gym or fitness facility more smoothly.
Did we miss any important gym management software feature? Add it in using the comments below. If you liked the blog, be sure to share it with your friends and check out our other blogs to find out more information on gym management software.
Share This News On Social Media
Facebook Comments