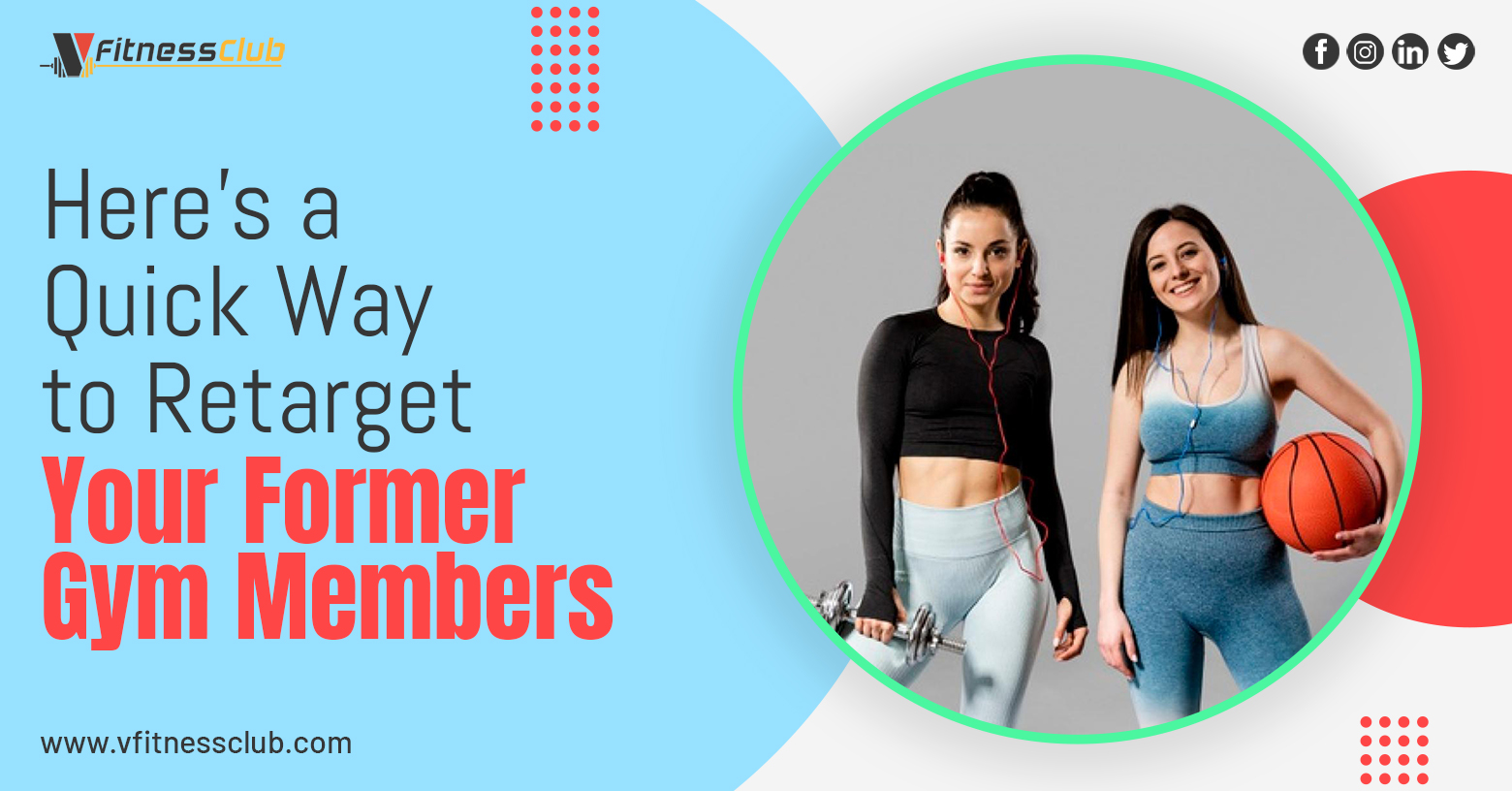 Here's a Quick Way to Retarget Your Former Gym Members
Admin
30-03-2021
As the world slowly comes back to being normal, people have started going back to their regular schedule. However, after such a long break, many habits tend to be forgotten or seem too far to be achievable.
Returning to the gym is also one of such habits. Many people were not able to follow their workouts, whether because of a lack of proper training or equipment. And many of these people will need additional motivation to rejoin a gym after the gyms and fitness centers start reopening.
In such circumstances, it may not be a surprise if you see the number of your returning members suddenly dropping down. Almost every gym or fitness center will be experiencing these situations.
In this blog, we will be looking at ways to retarget your former gym members to improve your number of gym memberships.
Think of offering restarting discounts
If you are resuming your gym or fitness center after a long time, you will need an attractive offer to pull your gym members back to the gym floor, and possibly others as well.
This could be a discount on gym memberships until a certain period (say 6 months or a year) or giving a month's worth of membership for free.
This will help you attract more gym memberships while resuming your gym functions again after a long break.
Don't forget to add the details of your gym or fitness center on the gym listing portal. This will help you get quality leads of people wanting to join fitness facilities like yours.
Once you have the attention of the prospective clients, you must try to turn them into your gym members by timely follow-ups and appropriate information sharing.
Create a referral program
A referral program is a great way to attract more members based on your current memberships. It gives rewards and incentives to your current members if the person they refer your gym to successfully joins your gym.
A two-way reward system will be a better option for new members as well. You can ask your current members to refer your gym to their friends or family and if the referral is successful, both the current gym member and the new gym member get a reward.
If the rewards are attractive, more of your gym members will refer your gym to others. This will also spread the word about your gym faster than a flyer or a wall sticker could.
Offer special batches
Is summer about to start? Or is it the wedding season? Offer special batches with discounted prices on different occasions to attract more memberships.
People want to be and look their best before going on a vacation, a special event, or a special ceremony so offers like these are bound to attract people. Show your prospective clients that you can help them achieve their desired body.
Former members who may have left the gym after the long break still know how it feels to be healthier. By reducing the prices, you give them added motivation to rejoin your gym.
Go virtual
A lot of gym members often leave your gym because they are relocating, or traveling for a long time. These members may love your gym and training workouts but cannot attend it physically because of some restrictions.
In this age of the internet, if you are simply going to let such members go because you only offer physical training then you are going to lose a lot more than a few members.
Take your training online. Offer your members the same training virtually. With the best gym management software, you get a feature to start live training sessions. In these sessions, the trainers can connect to their gym members/clients and give them the required training and feedback virtually through online live video connectivity.
With such technology, even when your members are out of town, they can still access your training and workouts through their smartphones and PCs.
Moreover, if you are good and your members are actively recommending you to their friends and family, then with live sessions, you can get members not only from your locality but also from all around the world.
Target your former members online
If you are a set fitness business then you need to have a social presence to connect with your gym members outside of your gym. Social media marketing is also necessary to connect with your prospective members and motivate them to check out your physical location.
With social media marketing, you can also put some budget for the social media advertising campaigns. With the right targeting, you can show your ads to not only your former members but also those who have shown interest in your gym by visiting your website.
If you think that you may need help in setting up a social media advertising campaign, you can outsource digital marketing professionals who would help to set up social media campaigns to increase your gym memberships, online and offline.
FAQs
How do you attract gym members?
Special offers, promoting a sense of community, maintaining good customer-staff relationships, there are many ways to attract gym members that actually work. You can read our blog on this topic to know about it in detail.
How can I improve an existing gym facility?
A gym is defined not only by its equipment but also by the staff, trainers, and the overall vibe it gives off to its members.
If you want to improve a gym facility, along with the interiors that reflect your take towards fitness, you can also invest in good staff, certified trainers, and provide your members with a warm sense of belonging. This will ultimately keep them coming back to your gym facility.
What do gym owners struggle with?
There are many things that a gym owner needs to manage efficiently to keep their gym facility running smoothly. While gym management software can take care of most of these tasks, gym owners, especially the new ones can struggle with retaining their memberships.
Read our blog on problems a new gym owner has to face and how to overcome them.

Conclusion
Retaining your current members is more valuable and less costly than attracting new memberships to your gym or fitness center. Similarly, if a member has left your gym for some reason, you need to get feedback on why they decided to leave your facility.
Once you know the reason, accordingly, you can make changes to your gym and retarget your former gym members and motivate them to rejoin your gym. The ways to retarget your gym members we discussed in this blog are as follows:
1. Think of offering restarting discounts
2. Create a referral program
3. Offer special batches
4. Go virtual
5. Target your former members online
These ways will help you to target not only your former members but with a few changes, you can also target new prospects to join your fitness facility. Top gym management software will help you to manage the different aspects of your gym along with the members and the leads that you receive through the gym listing portal.
It is a tool that helps to get follow-ups on the leads and convert your prospects into paying gym members. So, if you still do not use it, start your free trial of gym management software to understand how it can be helpful to your gym, its member retention, and overall profit.
Let us know your thoughts on the topic in the comments below. How would you retarget your former gym members? Will you offer special discounts? Live online training? Or is there another method you would use that we haven't listed in our blog?
Share This News On Social Media
Facebook Comments