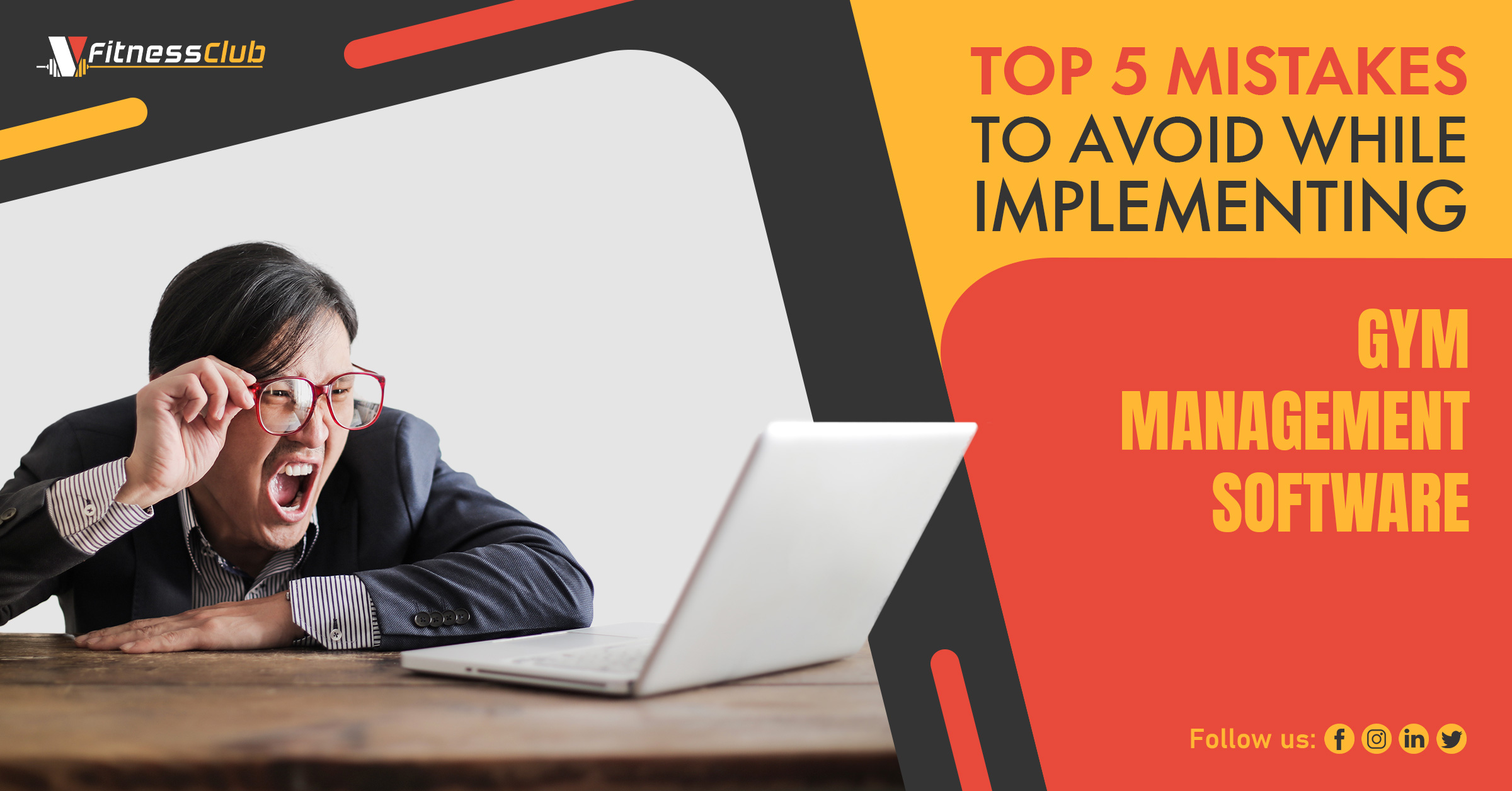 Top 5 Mistakes To Avoid While Implementing Gym Management Software
Admin
16-02-2021
There are many things that a gym owner thinks about before opening a gym. There is the location, leasing or buying prices, footfall, amenities, equipment, staff, and such similar things that need to be right to make sure the gym runs smoothly.
A gym management software is also a tool that improves your gym's performance and increases your profit margin. So, one may think that gym owners will take the same amount of care to choose and implement it. However, that is sadly not the case.
Many gym owners unknowingly make mistakes while implementing the gym management software that later results in under-performance of the software. And then they end up switching the gym management software.
So, in this blog, we will discuss the top 5 mistakes to avoid while implementing gym management software.
Lack of pre-planning
If you are integrating the gym management software for the first time, then there are certain things that you need to consider before purchasing, let alone implement the gym management software.
Gather the data that you want to add to the gym management software. If you are switching your gym management software then you need to take a proper backup of your data so that you do not lose any important data.
And once your software has been implemented, the onboarding team usually provides you either an online or one-on-one guide to use the software.
Never miss that!
The onboarding team usually gives about an hour-long tour of the software while detailing every feature and function to help you use the gym management software to its highest potential.
Missing that onboarding session keeps you from understanding the complete software. And trying to figure it out on your own may take a lot of time which you can utilize in doing other important work.
Not considering integrations
Integrations are the add-ons that you can use to get the most out of your gym management software. These features are not a part of the basic gym software but can be integrated seamlessly with it to give you added facility.
Some of the popular integrations that the top gym management software gives you are:
1) WhatsApp messaging integration
2) Biometric attendance
3) Payment gateway integration
4) Mobile application for the owner, trainer, and members
5) RFID card-based entry
These integrations along with your gym management software make it easier to manage your gym faster and more efficiently. With these added features, you get a more streamlined channel for communication, faster payment methods, increased security, and much more.
Not keeping your system organized
Gym management software helps you to create an organized environment for your gym. However, some things are still in your hands. You will still need to use the features to organize your gym.
For example, if there are some packages that you have created, stick to them and do not change them for any particular member or client, or If you have received a cash payment from a member, make sure that you add it to the software.
This way you can keep all your operations in a neat and organized manner. Otherwise, you may end up with a missing payment or one too many customized packages to handle.
So make sure that you make use of your gym management software's different features to manage your gym more effectively. Remember, no gym management software can completely automate your fitness facility so your software will assist you only as much as you know about it.
When you are up for organizing your work, only then can any best gym management software help you in decreasing your workload and making your gym more productive.
Not linking your branches
Did you know? The top gym management software in India offers you an option to manage multiple gym branches to a single gym management software. This means that you can manage your Mumbai and Delhi branch right from your main branch in Vadodara without spending more money.
For this, you need to link all your branches to your gym management software. Once you have done that, you can manage all your branches from a single place without going back and forth between your branches.
A lot of gym owners disregard or forget about this feature which results in them doing all the extra work. So make sure that you ask about it during your onboarding session to ensure that you do not miss it. And immediately link your branches to your gym management software.
Not working on your reports
You are working on your gym business tirelessly and yet it is not showing the profit you expected? Have you ever wondered why?
Many times gym owners with the best gym management software also face this situation. The reason being, not inferring the reports shown in the gym management software.
There are a number of reports gathered from various data that you input into the gym ERP software. You can analyze these reports to understand where your gym is gaining and where you may need to improve. This way, you get measurable data that you can use to increase the revenue of your gym business.
You can find these reports on your dashboard.
Conclusion
Implementing the gym management software correctly in the regular workings of your fitness facility is just as important as choosing the right gym management software.
For that to happen, you need to understand the gym management software properly and add all the backed up data to it. This way, your gym management software will be ready to assist you in managing your fitness facility more efficiently and increase your gym's productivity and revenue.
You can get your hands on gym management software for free with the free trial demo. With this, you can easily manage all the functions of your gym including member/staff management, inventory management, accounting, lead generation for higher membership count, quick and easy report generation, diet & schedule creation, and so much more.
Have ever realized some hidden feature of any gym management software that you found useful for your gym? Let us know in the comments section and be sure to check out our other blogs for information like this.
Share This News On Social Media
Facebook Comments