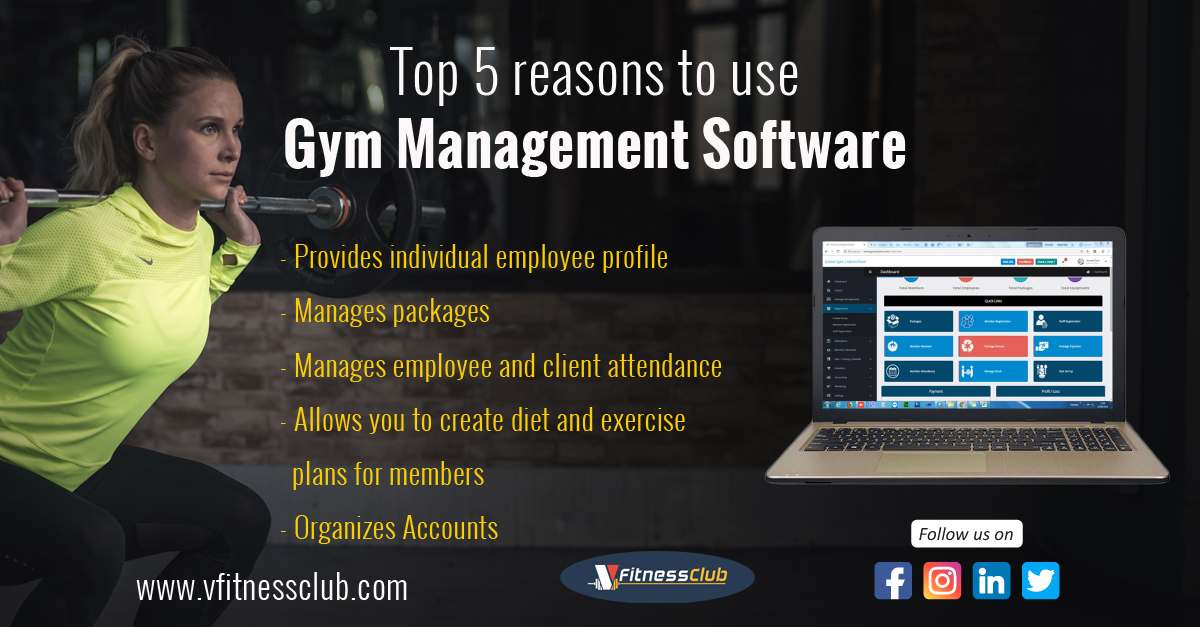 Top 5 Reasons to Use Gym Management Software
Admin
29-10-2020
The world is now moving faster than ever thanks to the amazing new technology that makes our lives easier. It has taken over a major part of our lifestyles.
If we want to measure our heartbeat, there is a gadget for that, if we wish to measure our blood pressure, there is a gadget for that. All these gadgets reduce the time it previously needed to do these things and get their results. To say the least, our health field has progressed incredibly in the past years.
However, health does not only mean medical sciences, it also means your fitness and what you do to keep yourself healthy, like exercising. Thankfully, the gyms are fully equipped to give their clients a great working out experience. But what about managing these gyms?
Do you manage your gym in the traditional pen and paper way? Or do you use smarter solutions like using gym management software?
What does gym management software do?
Keeping your gym organized and managed most efficiently is the priority of every gym owner. As the owner of your gym, you may need to keep a track of your employees' salary, your gym's accounts, along with managing your client and their schedule.
The gym management software assists you to manage all these and more. With the right gym management software, you can increase your gym's efficiency and productivity by many folds. Overall, using software to manage your gym can make your gym smarter in terms of its digital competence.
With that said, let's check out the top 5 reasons to use a gym management software.
Benefits of gym management software
Gyms are fitness institutions that run with the help of their staff and clients. And as an owner, you must take good care of them both. To be able to do that though, you need to keep everything related to your gym organized.
Gym management software helps you to do that faster by doing more than half of your work. It offers you many perks and benefits that you can use to run your gym more competently.
We have listed down of the benefits of using gym management software, these benefits also serve as reasons to use the software.
1.

Provides individual employee profile
Employees or staffs at your gym are an important human resource that supports you in managing your gym and its clients. It is just as necessary to manage them as it is to manage your customers.
With gym management software, every employee gets an individual profile that they can view and manage. In this profile, they can view their personal details, salary details, etc.
This way you can give your employees a platform where they get all the information related to their work in one place.
2.

Manages packages
You need to segregate your members based on the amount they have paid and the package that they have selected. At times, it might happen that a customer may have selected one package but paid for another.
These are human errors that happen at places where everything is managed manually. With the software, you can easily create and manage packages. Likewise, you can separate your clients based on the packages they choose in the software itself. That way, the software can tell how much a client has to pay based on the package details you have entered in the beginning.
3.
Manages employee and client attendance
Keeping a track of your clients' attendance is a necessary task. That way you can reschedule a client's workout timing to fit the hours missed before. Similarly, it is also important to keep a track of your employees' attendance and leave records.
With biometric integration, the gym management software will automatically mark their attendance in the database which you can access later anytime you want.
The gym members can check their attendance schedules and workout accordingly. If they have missed their regular time at the gym, they can reschedule it for any other day.
3.

Manages employee and client attendance
With different members of your gym, their fitness goals also differ. And so the same exercise routine will not work for everyone. We have to agree that a member's fitness goals decide what kind of workout they will need to do and what diet they will need to follow.
You, as their trainer, can create a personalized workout routine and diet plan for each member of your gym with the gym management software. This routine and diet plan will be shared with your member who can then follow it even when they are at home.
5.

Organizes Accounts
Running a gym doesn't only mean to help people work out their way to fitness. It is an organization that runs on money and resources. Hence, keeping an eye on the accounts of the gym is also necessary.
The Accounts feature of the gym management software makes it easier to manage the accounts of your gym. With this feature, you can keep track of your earnings and spending so you know how much profit you made at the end of the month.
There is also the employee payroll feature, which allows you to track all your employees' salaries and pay them on time.
Apart from these features, it also offers group records, an inquiry system, inventory management, and a membership renewal program. All these features together will reduce the time you have to spend working on a computer. Instead, you can use this time to help out more members of your gym.
Conclusion
Gym management software is the smart way to manage your gym as it processes the data a lot faster and helps you out to keep it running smoothly.
With a small monthly or yearly subscription, you can save a lot of time spent on paperwork. And eventually, you can enjoy the reason why you opened a gym in the first place; to stay fit yourself and to help others stay fit and happy.
Try the gym management software for free with the 14-day demo version. And for more fitness-related content, check out our blog.
What are the features that you look forward to in a gym management software? Comment your answers in the section below.
Share This News On Social Media
Facebook Comments