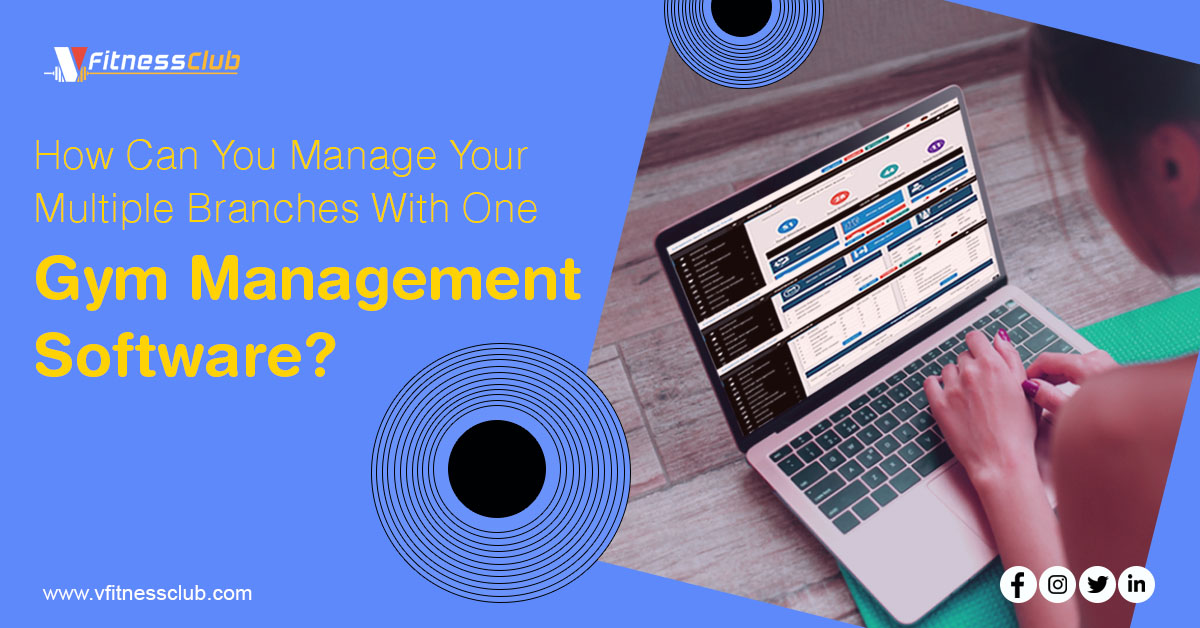 How Can You Manage Your Multiple Branches With One Gym Management Software?
Admin
26-04-2021
Gyms and fitness centers work as spaces to help people stay fit and healthy. It offers them the required equipment and training to perform well and achieve fitness goals faster.
Once the gym is well-loved by its members, they will start to recommend it to the others who would want to join your gym. As the popularity of your gym increases, you will want to scale your gym up. And many times that means creating another branch of your gym closer to your prospects' location.
Gym management software is a tool that can help you manage your gym whether you have a single operation space or multiple branches of your gym. Gym ERP software helps you in managing various tasks at your gym, from managing your employee and member details to making sure that you keep on attracting new members to your gym facility.
In this blog, we will look at how gym management software helps you in managing multiple branches of your gym or fitness facility more efficiently.
How does Gym Management Software help you manage multiple gym branches?
Good management of your fitness facility requires streamlined communication between you and your staff along with error-free management of records of every inventory, employee, or member.
To be able to do it all on your own takes a lot of time, effort, and money. Nonetheless, robust gym management software is a set of features and modules that integrate seamlessly with your gym facility. It assists you in managing and completing all your tasks more effectively.
The gym management software not only reduces your workload but also optimizes your inventory and expenses to increase your overall profit.
The top gym management software will help you do all of this not only for your gym's main branch but also for other branches as well. This means that you do not have to purchase another gym ERP software to manage your different branches.
Only one best gym management software is enough to manage all your fitness facilities across the world.
It manages all your data branch-wise
For every feature like employee management, member management, inventory management, or account management, you get an option to choose which branch does the details belong to. You can choose the branch from the ones you have already created.
The gym management software will automatically segregate their data branch-wise. So, suppose, you want to know the number of new members in one branch, you can simply filter the data based on the branches.
This way, it simplifies managing the data related to your gym, its employee, and members separately for every branch.
It connects you to your employees and members
Gym management software also acts as a communication channel between gym owners, managers, staff, trainers, and members. Everyone who is a part of your gym will be virtually connected to you no matter which branch they are from.
The gym management software offers SMS and WhatsApp integration. With these add-ons, you can send and receive communication from all the stakeholders of your gym.
With SMS integration, you can send important notifications to your employees as well as gym members. SMS works on a cellphone network which means that even if the recipient is not connected to the internet, they will still receive your message.
WhatsApp integration allows you to send and receive multimedia-rich messages to your staff and members directly from your gym management software. With this smart integration, you can send gym schedules, diet charts, attendance reports, batch changes, payment reminders and confirmations, and many other things directly to the recipient's phone.
It offers gym management mobile applications
The gym management mobile applications are dedicated smartphone applications that offer most of the required features of the gym management software to the gym administrator, trainers, and members.
The gym management software offers three different smartphone applications based on the user profile. So the features of the trainer application will be different from the member's application.
The gym owner (administrator) can send notifications to every trainer and member of their gym or fitness facility irrespective of which branch they work or exercise at.
Hence, the gym management software ensures that the employees and members of all the branches stay connected with the gym owner. This way, the gym owner can manage all the branches of their gym facility without having to go back and forth between them.
FAQs
What is the best gym management software?
The only best gym management software is the one that fulfills all your fitness facility's needs. Hence, it is better to try the gym management software for free before deciding to buy it for your gym.
How do you manage gym staff?
The gym management software helps you to manage all the details regarding your gym staff. It also helps your gym staff to work more efficiently.
How can I make my gym successful?
A successful gym is the one well-liked by its members. Here are some ways with which you can attract new members to your gym.
EndNote
Managing multiple gym branches is now easier with the top gym management software. However, make sure that you choose a cloud-based gym ERP software so that you do not have to keep changing your system every time you want to upscale or downscale.
A cloud-based online gym management software is flexible so that you can use it whenever you want and from whichever device you have at your hand. It is also more secure because of its cloud-based server.
Adding smart integrations like biometric attendance, WhatsApp integration, and payment gateway integration can further decrease your workload.
You can find out which gym management software best works out for your gym by trying the gym ERP software for free with the trial version.
Have you used gym management software for your facility's multiple branches? What was your experience? Share it with us in the comments section below and be sure to share this blog with anyone who may get benefitted from this blog.
Share This News On Social Media
Facebook Comments