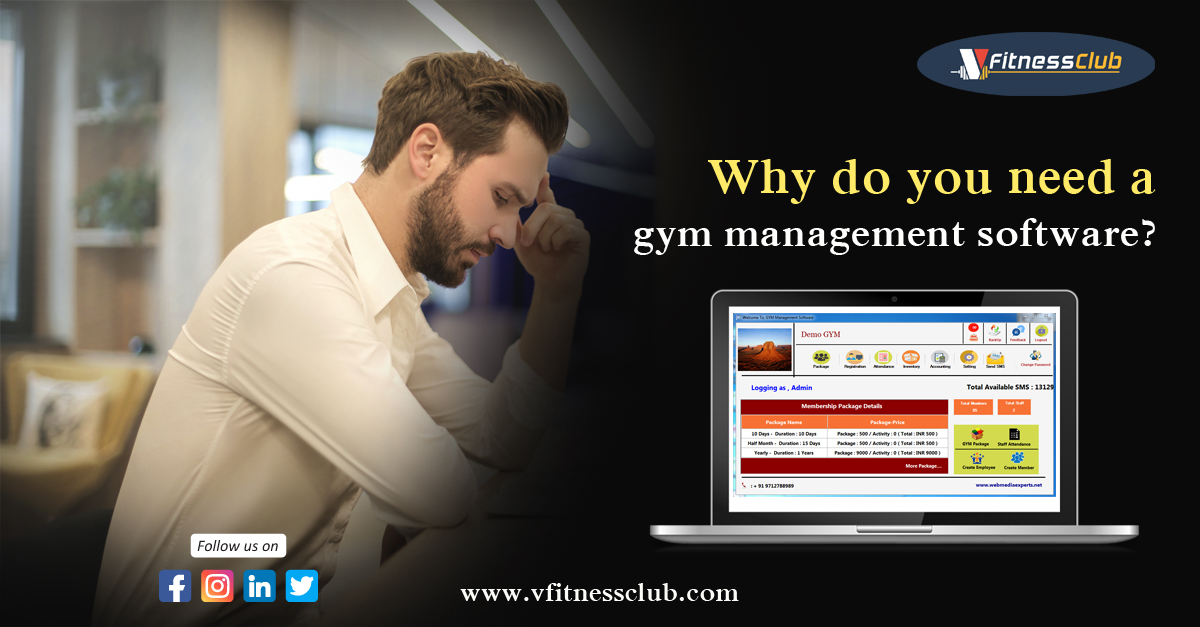 Why do you need the gym management software?
Admin
28-10-2020
Ever wondered how nice it would be if someone took care of the management duties that come along with owning a gym? If you are a gym owner then we are sure that you must have thought this at least once. Owning a gym and running it successfully are two things done out of a passion for fitness and good health. However, running a gym is not an easy job because fitness isn't the only thing that we need to take care of.
No matter how passionate we are about health and fitness, running a gym is also about business. And with our skills, we might be able to grab a bunch of clients but managing those clients plus the staff is what needs the most attention. But did you know that there are ways to simplify these processes?
We present to your gym management software. A faster and easier way to manage our gyms and fitness centers.
What is Gym Management Software?
"The gym management software is a complete tool to simplify and accelerate the day-to-day tasks of handling a gym or a fitness center successfully."
This gym management software provides various features that reduce the hassle of paperwork at the gym or fitness center. It is useful for all the gym-related management work. Whether it is about managing an employee's salary, storing and accessing the client's medical health history, or simply keeping attendance of all the gym members and staff. It allows the owner to keep track of and manipulate all the details related to the client or staff. This means that as the owner, we have all the data related to our gym members and staff at our fingertips.
There are different dashboards available for the owner and gym members. This facility allows both to operate their application separately with which they can inform, read, or edit their information. Employees can also log in and access their profiles wherein they can manage their details.
However, many of us might think that we can manage all of this manually, what is the need for gym management software?
Why is Gym Management Software Necessary?
In this day and age where everything, small and large, is done using the latest technology, doing work manually not only takes a lot of time but also a lot of effort. Gym management software gives us a hassle-free gym managing experience with features to reduce all your manual work. This will reduce heaps of paperwork and organize the database available in an an easy-to-understand format which we can access whenever we want.
Modern gym management software provides separate panels for both the gym owner and the gym member that allows them to view their details separately. Some of the features that gym management software provides are:
· Personalized Profile for Employees/Staff
This feature allows all the staff members of the gym to view and edit their profiles in the main database.
· Live Attendance
It is used to track the attendance of staff and gym members.
· Diet Plan Management
Member-wise diet plans to view and alter the food and nutrition details according to the fitness goal of each member.
· Accounts Management
Gym owners can view and control the balance sheet using the accounts management feature of the Gym Management Software.
· Payroll system
Owners can manage their staff's payroll using this feature. It reduces the possibility of manual error.
· Attendance control
This feature is offered to the gym members to view and control their gym attendance. This can also allow the member to schedule another session to compensate for the one they missed.
· Exercise Management
Members can view the exercise routine and schedule created by their trainer or they can plan their one of their own.
· Payment History
With this feature, gym members can view their payment history and it will remind them if the payment is due soon.
These are only a few features from the list of all that the gym management software has to offer us. To find out more about gym management software, visit here. VFitnessclub offers a free trial demo for 14 days so that we can see for ourselves how it makes all the gym management processes faster and more efficient.
Conclusion
Every gym and fitness owner wants to put more time and effort into helping their members reach their fitness goals faster. Although, the constant paperwork and management hassles make it harder for us to focus on our clients. The Gym management software takes away all that hassle and provides neat and organized data management and creation opportunities with minimum efforts. This way, gym owners will have maximum time to assist their members.
Modern gym management software makes our gym management smarter, faster, simpler, and more efficient. Do you use any gym management software to make your gym smarter? Would you like it to have any more facilities or features? Let us know in the comments section below.
Share This News On Social Media
Facebook Comments